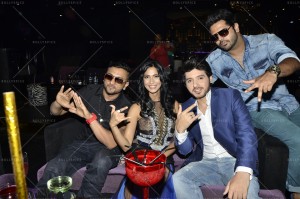 Pakistan being a Punjabi dominated country, has received the film
Dilliwaali Zaalim Girlfriend
very well and has been running house full over the weekend. It opened up slow on day 1 because of the Pakistan Vs Australia World Cup match, but shot up
on Saturday
and
Sunday
to packed theaters.
The flavor is also being very well received in the UAE where a lot of Indians reside. Middle East has been a growing market for Bollywood always and a lot of examples in last 1 or 2 years have seen non-starer films doing very well there.
Japinder, "I'm very glad that it's doing so well overseas. I'm from Dubai and have a lot of Pakistani friends, and getting positive reviews from both these countries makes me feel great. Both Middle East and Pakistan are huge territories and very favorable for the film."
In India the film has faced stiff competition with so many English films releasing and therefore getting much lesser show times. However, the north belt also responded to the film very well on Sunday. With no big release slated for next week, the makers are hoping to see a rise within the next few days as well.