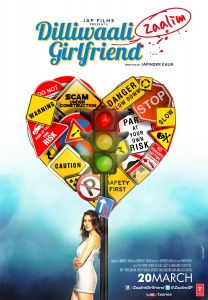 Dilliwali Zaalim Girlfriend, that's the name of an upcoming quirky- comedy film, directed by debutant director Japinder Kaur and written by Manu Rishi, which will feature Pyaar ka Panchanama fame Divyendu Sharma, who is in search of true love and ends up with one of Dilli's Zaalim girl, played by Prachi Mishra. Jackie Shroff for the first time plays the role of a punjabi villain, the film also stars Ira Dubey and Pradhuman Singh.
Before you start gunning down the director for picking on girls and particularly Delhi girls, here's what the debutante director of the film, Japinder Kaur has to say, "I don't think anyone names their film just for effect, for us especially it is extremely relevant to the script, if we are raising eyebrows, so be it, they will know what the title is about, when they see the film!"
The film's trailer is out and speaking about the response Japinder says, "The initial reaction on the trailer is really encouraging".
When it comes to grabbing the attention Japinder seems to have hit the right note, not only with the script of the film but also the music.
Dilliwali Zaalim Girlfriend, is all about resonating the spunk of a woman and the 'plight' of the man. The album boasts of a rather cool foot tapper number Birthday Bash by Honey Singh, which is all set to rule charts once again. Audiences have given a thumps up to teaser of the song which is attached to trailer online.
Dilliwali Zaalim Girlfriend stars Divyendu Sharma, Ira Dubey, Jackie Shroff, Prachi Mishra and Pradhuman Singh, is produced by Manjeet kaur and Tarnpreet Singh. Released by Waves Cinema and music on T-series, the film is slated to release on 20th March.