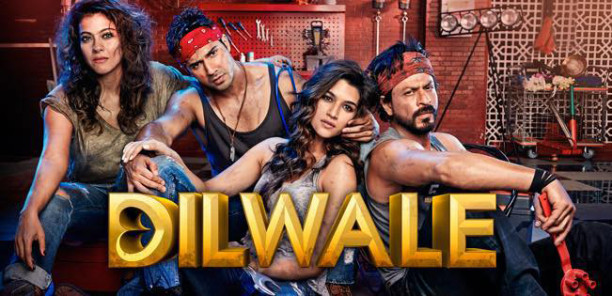 Dilwale is not all bad — it has its moments when it tugs at the heartstrings or tickles the funnybone, but those shining moments are mostly buried under mundane bakwas, and I'm not entirely sure it's worth wading through it to get to the good.
The movie actually has a plot for a while, and Shah Rukh and Kajol sizzle as always. Their love story is even set against a violent gang backdrop that lets director Rohit Shetty flip and blow up plenty of cars. But this is buried in lots of mundane day to day and attempts at comedy that net no laughs, and the beginning quarter of the movie in particular is so disjointed that you might lose interest before you even get to the awaited return of the SRK-Kajol jodi.
The film starts off with brothers Raj (SRK) and Veer (Varun Dhawan) living in Goa, fixing up cars until Veer falls in love with a girl named Ishita (Kriti Sanon, very forgettable). Ishita talks big but apparently can't defend herself, just pick fights like with drug-running minions of a don called King (Boman Irani). Veer swoops in to beat them up and save things momentarily, but it's Raj who really gives the goons a thrashing later, revealing that he himself is a former goon really named Kaali. (Apparently, Veer inexplicably doesn't remember that his brother was called something different 15 years ago.)
So, of course, the movie flashes back 15 years to when Kaali worked with their don father in, of all places, Bulgaria (we know this only because they mention Bulgaria by name twice — you wouldn't even guess it otherwise) and in love with Meera (Kajol). Kaali and Meera are, in classic Romeo and Juliet style, from dueling mob families. They trade plenty of threats and a few actual attempts to kill one another; familial conflict eventually puts an end to the relationship and sends both fleeing back to India with their younger siblings.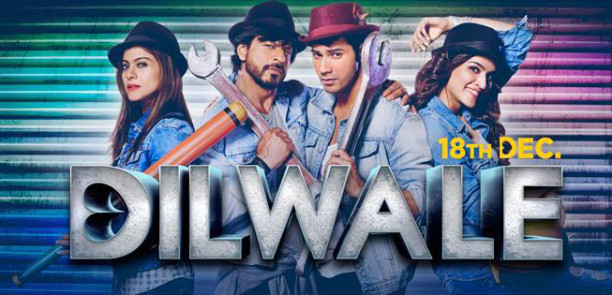 Oh, yes, Meera has a sister, too. Can you guess who it is? Surely you can, because, as the Third Rule of Bollywood states, if two lovers are separated, their younger family members will meet, fall in love and reunite them. (The first rule has to do with songs, the second with the inability of lookalikes to coexist without mischief.)
And so the movie goes along, a disjointed jumble of the SRK-Kajol romance, the Varun-Kriti romance, Varun hamming things up, grand looking songs like 'Gerua' that seem out of place in a less-grand movie, women who have spark but no real agency, a side-plot with a thieving best friend, Johnny Lever as a perpetual thief and Boman Irani as the fancy-suited ultimate antagonist don. Trying to sort them all out is fruitless. Each of these elements is unwelcome in at least as many scenes as they are welcome.
On the upside, Kajol looks as good if not better than she ever did, and she, the one who's been absent from acting for five years, delivers the best performance here. In at least one moment, she has at least as much swagger as any hero, though Meera's agency comes and goes all too quickly and seems to apply mostly when Kaali is involved.
Shah Rukh, too, is mostly watchable, minus a few brother bonding scenes that seem too teary by a mile, and only the stone-hearted won't feel a tug or two from his romantic overtures.
Unfortunately, neither of them, valiant an effort as they give it, is strong enough to save this movie from its own poor writing and jumbled assembly.