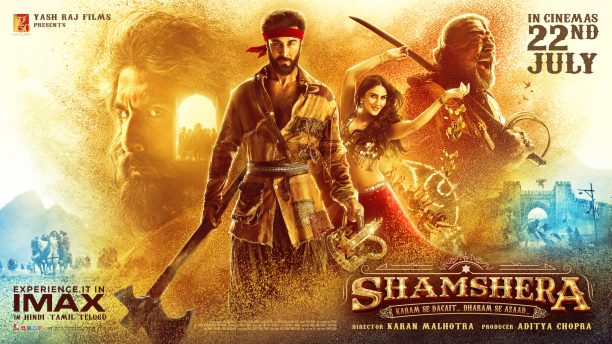 Get ready; we have some inside scoop into what went into creating the incredible world of Shamshera, which is set in the 1800s in the fictional city of Kaza. Directed by Karan Malhotra, this epic action flick sees Ranbir Kapoor in a double role, Sanjay Dutt as evil as he has ever been, and Vaani Kapoor, who plays a crucial part in the Ranbir aka Shamshera aka Balli's victory. The battle begins when Shamshera hits theatres on 22 July.
Karan recently revealed details of all the work went into making the stunning world of Shamshera come alive from script to screen, "Our vision for Shamshera was to create a visual spectacle like no other. We wanted to create a never seen before new cinematic experience for our audiences. For us to do this, we had to prep for one year, four months of mammoth set construction time, 500 + workers along with crew members of setting department, 140 days of shoot, and it took 2.5 years for us to work on our VFX to bring Shamshera in its finest glory to our audiences."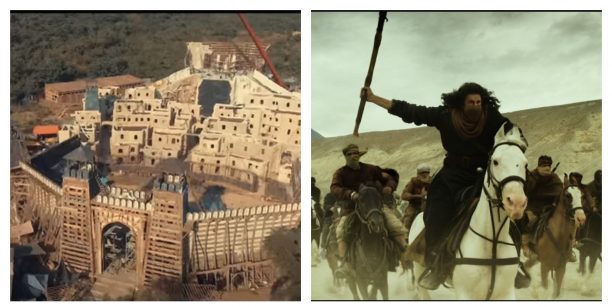 He added more details on Instagram, presenting glimpses of 'what was visualised and sketched pre-shoot to how it turned out post-shoot for you to understand the amount of work that has gone in to make the vision of Shamshera into a reality.'
In fact, the director explained and showed the storyboard plan for the massive undertaking, "We wanted to create a new immersive cinematic experience for audiences with Shamshera. To achieve that, we spent a lot of time visualising what the world would look like and, with the minutest attention to detail, started building the world of Shamshera brick by brick."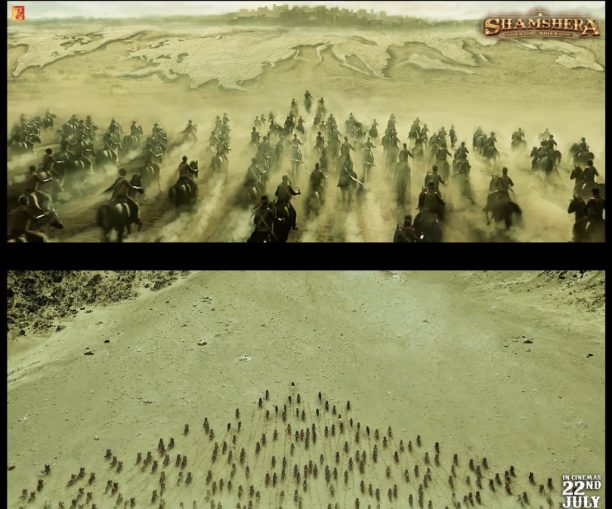 "I knew it wouldn't be easy to make a visual spectacle featuring dacoits on horseback. I only realised the task at hand when we started shooting, despite all the prep we had put in. What helped the most was the intricate detailing of each frame of Shamshera before we shot the film. The storyboard captured it all. The visual narrative that we all relied on had taken over a year's work to prepare and discuss and debate. We wanted to create a visual experience like no other"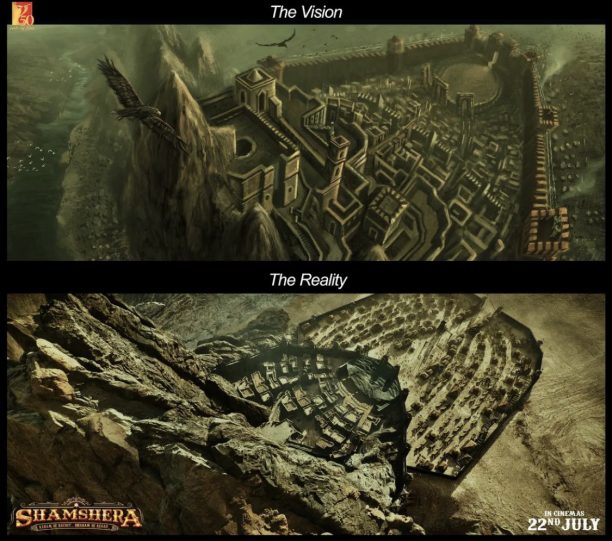 He added, "Visualising the Kaza fort and the prison, where Balli and his fellow tribe members -are tortured as captives, was the most challenging and the most creatively satisfying experience for the team and me. The vision was to create a visual spectacle out of this prison fort, and I'm happy that people have felt awed by seeing how grand, dark, and towering Kaza looks. I have to thank my production designer and the entire YFX team for bringing this fort alive from sketch to screen. It was truly a Herculean task for us all, and I'm delighted that we have created an on-screen marvel for people to see!"
Check out this video for more details, including hearing from the director, plus Sanjay Dutt, Vaani Kapoor and Ranbir Kapoor!
Shamshera is set to release in Hindi, Tamil, and Telugu on July 22, 2022.