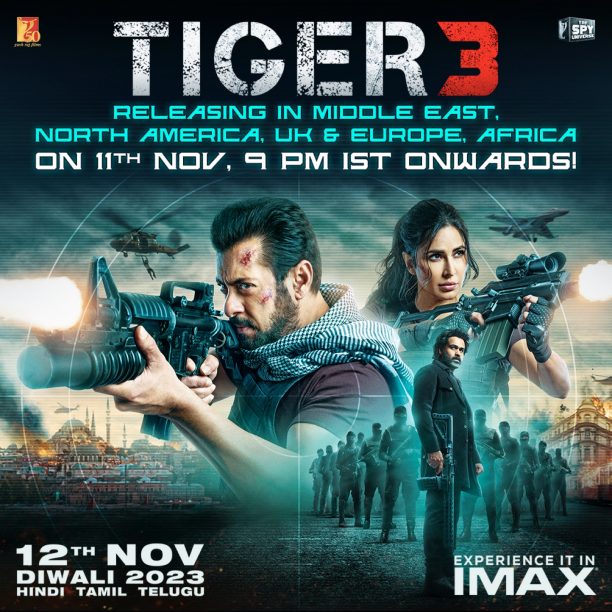 While the incredibly successful teaser & trailer of Tiger 3 has made the action spectacle the most anticipated movie to watch out for, director Maneesh Sharma says YRF has cleverly managed to keep every beat of Tiger 3 a secret!
Maneesh reveals, "We built the teaser and the trailer of Tiger 3 to show how Tiger's story moves forward but you haven't even seen 1 % of what we have in store – we're saving the best for the big screen!"
The teaser and the trailer of YRF Spy Universe's latest offering Tiger 3 promise of an adrenaline pumping action extravaganza in theatres this festive season! The film has megastars of Indian cinema Salman Khan & Katrina Kaif reprising their iconic roles of super spies Tiger & Zoya!
Maneesh further reveals, "Around 50-60 percent of the film are action sequences of great scale and we wanted to just give you a small peek into what you can expect. We want that surprise and the euphoria you feel when you're watching something you didnt even expect!"
He adds, "When you have a film like Tiger 3, it is important that you hold back and keep building anticipation. Imagine if we'd just given everything away already! That's why we made sure that some of our most exciting sequences dont even show up on the trailer so that Tiger's fans can gasp and whistle and scream in the halls!"
The director adds, "Tiger 3 is a big screen spectacle and we want people to come in and be thoroughly surprised. We want them to have a 'Diwali Dhamaaka' this year when Tiger 3 comes roaring into cinemas. If we can do that, well, thats what will give the team of Tiger 3 most joy!"
Tiger 3 is set to release this Diwali, Nov 12, Sunday in Hindi, Tamil & Telugu.