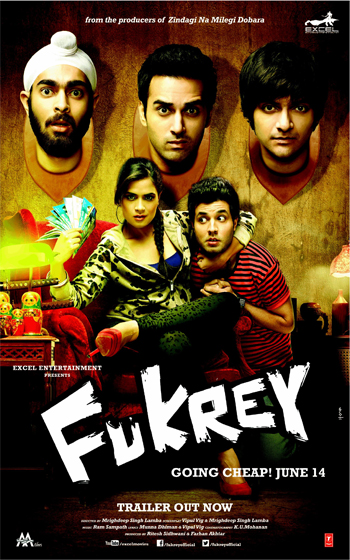 For his second film director Mrighdeep Singh Lamba continues down the funny film path with a slice of life meets comedy meet caper story in Fukrey. The film tells the crazy story of 4 Fukra's aka directionless slackers running after their individual desires, brought together by one dream, which turns their not so simple life upside down. What happens next and does it end well for our four heroes? Well you will find out on June 14th. The film stars as the 4 fukras Pulkit Samrat, Manjot Singh, Ali Fazal, Varun Sharma, who are joined by Priya Anand, Vishakha Singh, Pankaj Tripathi, and Richa Chadda in the mad film. We got the scoop from the director about all things Fukrey including his talented leads, Richa as a female don, working with Excel and much more in this fab interview! Check it out
Tell us how the story of Fukrey came to be.
The idea belongs to a friend of mine the co-writer with me Vipul Vig. We were sitting and we were discussing some ideas as I was trying to work on my second script. That's where we came up the idea of these characters and the setting where these characters are in. It was just a one line basic idea that he had and from there it just kind of clicked. I really could relate to it because these characters were in Delhi doing things which at some point we used to do, so there was some sort of excitement that clicked with that idea. We started developing the story and later started sketching around the characters and then eventually came up with the screenplay. So, it actually started on a coffee table.
So to have it come from that first idea to paper, to full screen and now getting ready to release – what is that like?
It feels really nice. All the hard work, which we have put in, right from putting black on white in terms of writing the script and putting life into these characters, then putting them on set and then on film… I really can't express that feeling. And it hasn't been that long because as soon as we were done with the script we started sharing it with people outside. We went to Excel the production house with the script and from that word go its been like, as Pulkit said to you the film is a roller coaster ride when people come to see it, it has been a roller coaster for us who are making the film also. We are still yet to come to a halt. I think it will happen only when the film gets out. It's been a lot of fun! Its been a lot of excitement.
Tell us about casting each of the actors.
The film is based around school and college time so we needed actors of the special age group. The idea was to cast fresh faces. It actually was a very bold and big decision taken by the producers, that I must say I really appreciate that tremendously. The thing is Excel is a production house which has access to a lot of big stars, but still I think all of us were all on the same page when we spoke about having fresh faces for the characters. There is no attached baggage to them and there is actors playing those characters rather than stars playing those characters. That is how the idea of casting fresh faces came up. Pulkit Samrat had done one film before and the other boys (Ali Fazal, Manjot Singh and Varun Sharma) had also done one or two films before that. They were relatively fresh and we knew of their talent, but still we did a mass audition for a lot of roles. Finally we got to these four boys and now I can say it really was a very good decision because these actors are phenomenal. It was just a very small scale for them to perform in and to show their talent – these guys are much more than what they have done or what you will be seeing in the film. These guys are really exceptionally talented.
How did you work with them to get them in their roles?
The thing is since I was the co-writer of the film I knew the characters very well. It was easy for me to explain how a particular character would behave or would talk or act in a particular situation. Also the kind of flavor the language carries, being from Delhi myself I know how these characters would talk. And I would know how these characters would carry themselves on screen. We did a lot of workshops. At first we did a lot of readings, but eventually nothing was serious because it was more of fun, more of connecting, because the film actually depends on a lot of give and take. It's more about spontaneity then they are actually acting on screen. Even how we wrote the dialog – it was not that we were writing dialogs for a film, it was just that me and Vipul were talking and we used to write that down – so the dialogs are very conversational. So that was what was needed from the actors, they just needed to be spontaneous. It was just to break the ice is why we did those workshops and it really helped. It really got those boys together because you always have this fear that if the boys will gel or not. I mean it is a long time that they will have to spend together so they must really like each others company. I was really surprised because the first two days I didn't go for the workshops, I left them with a coach to see how they react and act, but when I arrived I was really taken aback and surprised. They looked like they had been friends for a long time not that they just met a few days back.
Pulkit said that he based a lot of his character on you; did you see glimpses of yourself in these characters?
Since we had written the script of course there are glimpses of us in all the characters. All the four boys and even the other characters that you come across in the film there is a little bit of a glimpse in all of them. It is a very real film; nothing is made out of thin air. So it's all your experiences. It's all the people you have come across, situations you have come across, it's all kind of put together on paper. Of course these characters are like I am and how Vipul my co-writer is but kindly twisted in our heads. And even if you put us in the same situation it will turn interesting because that's how characters act and people react in a particular situation.
So you have Richa Chaddha in a new avatar, which is very interesting, tell us about her character.
It is all the four boys throughout, so we felt we needed a female element in the film. Though these boys have their girlfriends and they have their love stories, we thought we should put them against a bad guy and that the bad guy should be a woman actually. That is where the idea of making a female don arrived. Richa is a fabulous actor and we needed someone like that. This is not a larger than life don, what we had in mind is that she should be a very simple, girl-next-door who does in some fashion go wrong. She has some quirks and on top of that she has her hand in all the illegal businesses that runs around in Delhi. That was the basic idea and we needed someone who's really believable to look at. A girl next-door sort of face is what we needed for this character. Her character is called Bholi Panjaban, which means an innocent Punjabi woman, so she looks innocent and she is only innocent until she opens her mouth and when she does – their soul finds away out of their body – that is the effect she has on people. Richa is a fabulous actor who is a delight to work with.
Tell us about creating the music for Fukrey.
The idea was to make music as mad as the film was. That was the starting point when we having the music sitting. That was the basic brief we have to make it completely mad. At the same time, as the film contains a lot of soul and a lot of emotion, we had to make sure to keep the soul intact as well as the mad. I think that has come out really great on the album. If you have heard all the tracks there is huge variety in all the songs. His (Ram Sampath) way of working is very nice. We both like to experiment, we both like to get a lot of new elements into the music. The music sounds different than what we have been hearing. The idea of fusion and the idea of producing a particular track in a different sound to make it sound international and make it sound like world music. I think he was pretty clear about what his arrangements were supposed to be and the ideas and how the lyrics were written. I think it was a fantastic experience. He has done an exceptional job on this album. I really love the songs of my film.
Tell us about working with Farhan and Riteish as producers.
I have known them before – I have assisted Farhan as an AD on the first Don he did. I have known them since those days. The experience was very good. The kind of experience they brought into the film with their creative inputs, with their suggestions, with their constructive criticism, and how they are looking at things really helped. It really helped to make the script much better and eventually the film. They were not at all interfering. They had sole trust in me and they are very happy with the final result. You know, Excel as a production house is known for the quality product that they deliver, they have a reputation and they have a standing and they are expected to live up to that. I think they are really happy with the final product which we have got. It has been a fantastic experience working with them. They are both very warm – they are more like friends than producers actually.
What will audiences see when they come to see Fukrey?
There is no denying when you see the promos and the songs that it definitely is a fun film. For the majority it is a for a youth audience, but people of all ages will actually find something relatable when they come and see the film. The emotions the characters go through will connect in some way or another with various ages of people who come see the film. Finally of course it is a really fun film It's a slice of life meets comic caper – that is the sort of pace that the film has. People will really be glued to see what it is going to happen next. I am sure they are going to love all the characters because all the characters in one way or another are all very endearing. Even Bholi Punjaban being the Don people are going to actually walk out loving her. They are all very, very nice characters. Even the secondary cast. they are absolutely fantastic and lovable. It is going to be a good and fun experience for the audience to see Fukrey.