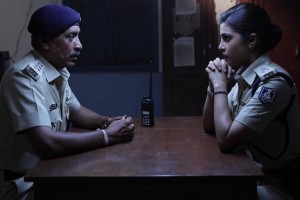 Prakash Jha's much awaited film Jai Gangaajal is up for release. The director who is also making his acting debut in the film seems to be in complete awe of Priyanka Chopra. He said, "Directing a superb actress like PC is an experience, but facing her as an actor is another challenge".
The director went on to narrate an incident when Priyanka teased him and said "As a director you are the boss, you can tell me what you want me to do. Come in front of me as an actor. Dekh loongi."
He further praised the actress, "Priyanka is such a sport, and she brings out the best in her co-stars".
Get ready to watch the director and the multi-talented actress in their police avatar at a theatre near you!
Written and directed by Prakash Jha, produced by Prakash Jha Productions and Play Entertainment and co-produced by Milind Dabke, Jai Gangaajal revisits the dusty heartland of Central India and examines the society–police relationship. Starring Priyanka Chopra, the movie is all set to release on 4th March, 2016.