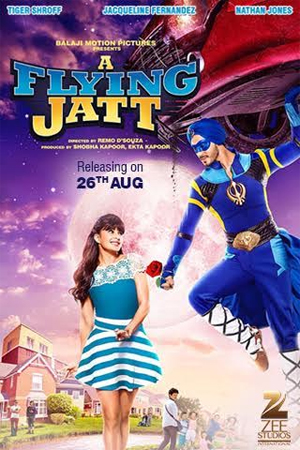 Tiger Shroff is set to play India's youngest superhero – who happens to be scared of heights – in the action comedy, A Flying Jatt, which opens in cinemas today, 26th August 2016.
Produced by Balaji Motion Pictures and directed by Remo D'Souza, the film co-stars Jacqueline Fernandez and Aussie Nathan Jones (Mad Max: Fury Road) as the super villain Raka.
The 26-year-old actor Shroff shared that the film has no drugs, sex or violence, aims to glorify the Punjab region, and touches on the issues of pollution and conserving the environment, saying, "It is a very clean film with a clean message." He also shared how he relished the chance to work with Jacqueline, observing, "She is a very hard working actress. Her optimism is contagious and a big reason why she is successful."
Director Remo D'Souza says, "Superheroes are all powerful and all encompassing –but Flying Jatt is all adorable. He is the most humane superhero and while he goes about his duties, his quirks and reluctance is a new dimension to the superhero genre. Everything has an alternative, except Mother Earth. In this film we have shown the horrific outcome of a world where pollution gets out of control. The respite that our superhero brings and his powers, all come from natural sources."
Directed by Remo D'Souza, A Flying Jatt stars Tiger Shroff, Jacqueline Fernandez and Nathan Jones. Distributed by Zee Network Europe, it's in cinemas today, August 26th 2016.