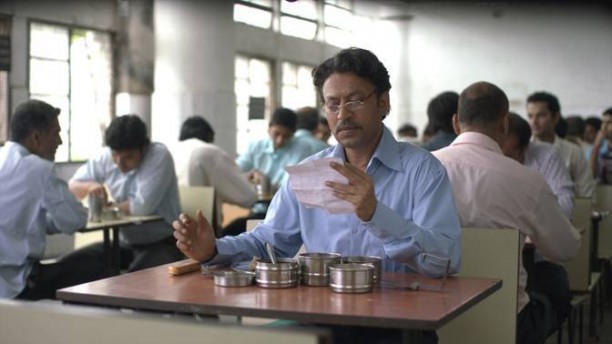 Directed by Ritesh Batra, the award winning The Lunchbox stars Irrfan Khan, Nimrat Kaur, and Nawazuddin Siddiqui. Screened at the prestigious Cannes Film Festival, Toronto Film Festival and Sundance and many more, The Lunchbox has received rave reviews from all over the world. Releasing in India in 2013, The Lunchbox was universally applauded by fans and critics alike. We here at BollySpice loved the film giving it a near perfect review and naming it as one of the best films of 2013. Film fans in the US have been clamoring to see The Lunchbox and finally they will get the chance. Starting on Friday, The Lunchbox opens in New York and Los Angeles. Sony Pictures Classics will then release the film in additional cities nationwide throughout March.
Check out this cool interview with Director Ritesh Batra as he talks about the story, the actors and the magic of The Lunchbox! "I find myself drawn to stories that have a sense of how ridiculous life can be at times, and in finding something interesting in the mundane. There is a strong resonance of this in The Lunchbox where the characters find out that they have forgotten many of the things that have happened to them because they didn't have anyone to tell them to until now. The subtle magical realist elements in the story question the audience about their own faith in all that is fantastical."
The story of The Lunchbox:
Ila (Nimrat Kaur) is a young middle class Mumbai housewife trying once again to add some spice to her marriage, this time through her cooking. She desperately hopes that this new recipe will finally arouse some kind of reaction from her neglectful husband. She prepares a special lunchbox to be delivered to him at work, but, it is mistakenly delivered to another office worker, Saajan (Irrfan Khan), a lonely man on the verge of retirement. Curious about the lack of reaction from her husband, Ila puts a little note in the following day's lunchbox, in the hopes of getting to the bottom of the mystery.
 
This begins a series of lunchbox notes between Saajan and Ila, and the mere comfort of communicating with a stranger anonymously soon evolves into an unexpected friendship. Gradually, their notes become little confessions about their loneliness, memories, regrets, fears, and even small joys. They each discover a new sense of self and find an anchor to hold on to in the big city of Mumbai that so often crushes hopes and dreams. Still strangers physically, Ila and Saajan become lost in a virtual relationship that could jeopardize both their realities. 
Batra describes the characters of the film as living in prisons, "Ila, in the prison of her marriage, and Saajan in the prison of his past. The story is as much about the hand of fate that guides our life as it is about the choices we have to transform our lives when we so wish. A pivotal character in the story is Shaikh, Saajan's new office colleague and someone who he has to train to be his replacement. Shaikh is a survivor, he is an orphan who has kept his own name and made his way through life in a tough city. Shaikh seems naïve but he is not a victim of his circumstances. Over time, a father-son relationship develops between the older Saajan and the young Shaikh as Saajan emerges from his prison."
One of the things that every critic has raved about has been the performances of the three lead actors. Apparently he always had Irrfan and Nawazuddin in mind to play the characters of Saajan and Shaikh, "I was thrilled when they came on board."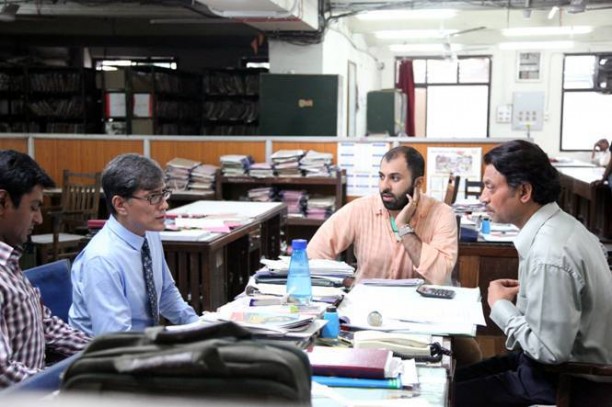 "Each actor had their own method of approaching the script", says Batra, "I often felt like three different directors in the body of one while directing this movie."
Revealing more about the process of developing the character with Irrfan Khan, Batra says, "The process of working with Irrfan was very organic, he was there to discover the deeper meaning of the script and read between the lines, as I was. He was very invested in the script from our early discussions and we had several meetings before the shoot, then I'd go home and rewrite after each discussion. He made this character his own in wonderful and unexpected ways."
For Nawazuddin, there was another approach, "Nawaz wanted to improvise to be in the moment because the character of Shaikh says unexpected things and is full of surprises, and so we improvised with great results."
We also learned that Nimrat Kaur actually lived as Ila for 3 months before the shoot, "Her story is entirely set in a tiny Mumbai apartment, and we dressed up and rehearsed on location for three months with her and the little girl who plays her daughter."
Talking about his experiences over the past year in taking this film from Cannes to Toronto to just recently Sundance and the overwhelming response The Lunchbox has received he says, "It's hard to imagine the response to a film beforehand since the film really belongs to an audience after it's screened. If they like it, they bring themselves to it and connect to it in a visceral way that the filmmaker cannot imagine. Fortunately the reactions to the film both at festivals and post India release in various countries have been very overwhelming. To see people being touched by your film and seeing something of themselves in everything of you that you have put into a story, it's a real gift."