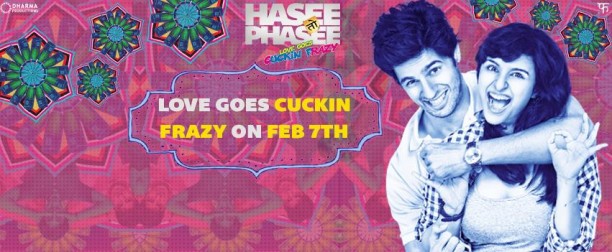 Releasing on the 7th of February 2014, the much anticipated wait for Hasee Tho Phasee is almost over.
It is not unusual for a Bollywood rom-com to be released days before love struck Valentine's Day.
However, Hasee Toh Phasee promises to be a Bollywood rom-com with a difference.
Starring Siddharth Malhotra (Student of the Year) as Nikhil and Parineeti Chopra (Ishaqzaade) as Meeta in the lead, the film is produced by Karan Johar and Anurag Kashyap.
Director Vinil Mathew shares his thoughts on the relevance of the film's slogan "Love goes Cuckin' Frazy", if there is such a thing as a "normal" person and Parineeti Chopra learning Mandarin for the role.
But first, what is Hasee Toh Phasee about?
The tale takes place in Mumbai and spans over a ten year time frame.
The magic begins when mischievous Nikhil bumps into quirky and rebellious Meeta at her sister's wedding. Meeta is on the run. Although both herself and Nikhil have something in common-their struggle to fit in with their respective families, sparks do not quite fly as one may expect.
Nikhil falls head over heels in love with Meeta's younger sister, Karishma.
The film next skips to Nikhil and Karishma's pivotal engagement.
Rejected as a good for nothing by Karishma's wealthy father, Nikhil vows to prove his worth. He promises Karishma that he will prove himself worthy of her love- and that too, in just seven days.
In attempt to please Karishma, Nikhil allows Meeta to move into the flat above his house with his crazy extended family.
During Meeta's stay, Nikhil and Meeta become closer.
As they open up to one another, they realise that in the midst of all this confusion, the truth about relationships is unfolding; the strength of unions is being tested and love, is triumphing. 
Tell us more on the slogan 'Loves goes Cuckin' Frazy'?
Love can't be a chore. It should be 'cuckin frazy'! Held together not by compromise but by sizzling chemistry, that's what I want the audience to perceive whilst watching Hasee Tho Phasee.
 
How does Hasee Toh Phasee perceive people?
The film observes people and happily discovers that there are no normal people in this world, and that under the veneer of normalcy, everybody is whacked out.
How would you describe this film?
The movie looks very different, vibrant and absolutely young. We loved Sidharth Malhotra's carefree, footloose character in the film and Parineeti Chopra looks promising once again with her unmatchable exuberance. The movie is about how love comes from an absolutely unexpected corner when Sid [Sidharth] decides to prove his true potential to marry his girlfriend. Circumstances bring him close to Parineeti. The two start developing a special bond for each other that ultimately gets converted into love.
 
Is it true Parineeti Chopra had to learn Mandarin for the shoot?
Yes, there is a sequence where Parineeti was required to speak in Chinese. I wanted the sequence to be completely authentic and so I got two Malaysian actors, Cynthia and Mayjune, to teach Parineeti the language. Parineeti, being the actress she is, is happy to have learnt a new language. We are sure it will break barriers for her if she decides to climb the Great Wall of China!
Celebrate this Valentine's season with the release of Dharma Productions must-see romantic comedy film of-the-year Hasee Toh Phasee, which releases on 7th February 2014 in the international markets through Reliance Entertainment.
Stay tuned tomorrow we will have Sidharth Malhotra on all things Hasee Toh Phasee!