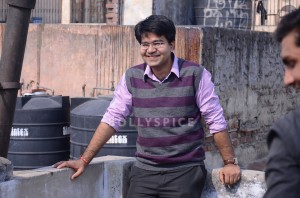 For a software professional arc lights, cameras may have been strange companions but for this IT professional, the transition has been pretty smooth. Thanks to his long involvement with theater and passion for story-telling, Sachin Gupta has switched over professions with a remarkable ease. As a Theater director and producer he has produced 13 original plays and has done more than 90 showing across India. His international accomplishment has been in form of all American cast 3 BROADWAY plays in USA and Canada. While staging shows, he also studied Acting at prestigious Lee Strasberg Film Institute, New York & at Fanshawe College, Canada. He learnt nuances of Shakespearean acting at the prestigious Emerson College in US.
His maiden film Parathe Wali Galli, extensively shot in by-lanes of old Delhi, is all set to enchant the audience with its simplicity and light humour on 17 January 2014. Director-producer Sachin Gupta talks about the film, his love for theater and a lot more…
Why this name 'Paranthe wali gali'?
Sachin Gupta: Because my story and its characters are based out of the famous PARANTHE WALI GALI in old Delhi. In fact the female lead played by Pooja supplies different kind of paranthas to earn her living. She is a smart and bubbly young woman.  Hero Anuj Saxena also lives in the same area. The sweet romantic but satirical story connects with the region, hence this name.
From being a software professional in US to a filmmaker now….a very interesting journey indeed…
Sachin Gupta: Yes, interesting but then I was always involved in theatre. I have written, directed and produced 13 plays and also done many shows for Off Broadways in USA. I have received President's appreciation as well as National award for my contribution to theatre. So, in a way, storytelling was not new to me. It is the same process whether it is cinema or theatre, only the medium & time frame differs.
Tell us about the film Paratha Wali Gali.
Sachin Gupta: It is a simple romantic comedy based in Old Delhi. Anuj Saxena plays the male lead and Neha, a new girl from theatre background plays the female lead. The film is shot in old Delhi on locations which has added a lot of colours and liveliness to the film. There is no set created at all. Each and every location shown in the film is real. Like in some other films with old Delhi as central theme, producers had shot them in cities like Jaipur because may be they were too scared about the cramped locations in Delhi but I wanted all authentic places and look. Locals were so very cooperative with us. Audience will like the drama and fun factor while connecting to the story happening on screen.
Why did you choose a TV actor for a lead?
Sachin Gupta: First of all TV actors are extremely hard-working and the kind of schedules they work around is simply crazy. I wanted an actor who was totally dedicated to the project. Anuj is a very dedicated and committed actor. All the efforts he took for the role, his attention to details were amazing. I personally think that an actor with no discipline cannot succeed in the long run. There are many examples of such in industry. Look at Amithabh Bachchan, he is a great actor and disciplined too at the same time, having the longest run at top.
Tell us about a new girl Neha?
Sachin Gupta: We auditioned many girls for this role and shortlisted  100 girls and finally  we chose Neha. She has a very solid theatre background and she has done a great job in this film. In fact Anuj also had to go through the rigmarole of audition before he was finalized.
Looking at the current movie trends, how commercially viable is your project?
Sachin Gupta: Today there are all kinds of subjects being handled. Yes, there are movies which are for 100 crore brackets but then there is also scope for good movies. There is no guarantee that you spend 90 crore on a film and it will do well. Might as well spend 10 crores and make a good, interesting film! See, when a painter does a painting, he doesn't think about how saleable it is. He is simply giving way to his expression, same is with any creative process. I have made a film with a subject that I liked and I know for sure that people from 15 to 80 will enjoy it, because it has fun, its about every creative person and their emotions, its about expression of love without going over the top to let romance bloom.  You don't need item dance to show passion nor do you need kissing and short clothes to exhibit glamour. My film is a commercial  project and not sleazy codicil.
Vasundhra has given music for a north Indian story? How come?
Sachin Gupta: Music is very regional. Vasundhra has been associated with me since long. She has done plays with me. She is very creative and understands the requirement. She has given amazing music. We have had two more songs in the film done by Vikram.
Did you face any problem while shooting on locations?
Sachin Gupta: Yes we did. Although locals were mostly cooperative but the police kept troubling to get some extra money. But we were determined not to get intimidated and finish the shoot at actual locations. We shot at novelty cinema, in actual parantha lane at chandni chowk, at Dariba Kalan, Kinari Bazaar…… and enjoyed every moment of it.
What about the rest of the cast?
Sachin Gupta: besides Anuj, Neha, Mohinder Gujral and Vijyant Kohli other friends of Anuj's character are all from my own theater group. They have worked with me since long. So it's  a mix of film and theater actors.