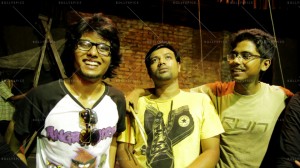 The Ludo Rock Band Hunt has finally come to an end with the director team of Q, Nikon and music director Neel Adhikari declaring Delete as the winner.  Ludo is the latest film by the director duo Q and Nikon, who made the critically acclaimed and controversial film Gandu.
The Rock Band Hunt was a unique contest that the Ludo team launched to attract the best musical talent in Bengal and give these upcoming groups an opportunity to showcase their music through the film. It saw 76 bands participate, of which 10 bands, based on maximum popularity on various (social) platforms, got an opportunity to move to the second phase of the hunt. Five other directors' choice bands made it 15 teams to audition for the look test.
Biswarup Roy, vocalist of the winning band 'Delete', said, "Extremely thankful to the entire Ludo team for making us a part of this competition. It means a lot to us and we feel great. We are also thankful to everyone who voted for us in the initial rounds and helped us on our way to the top 15."
Ludo's music director Neel Adhikari said, "We were amazed with the passion and talent that all the bands brought into the competition. Finalizing 'Delete' was an extremely tough challenge as several other bands presented great music and screen presence."
'Delete' along with the two runners-up – Danpitey and Addiction, will feature in the fantasy-thriller-horror Ludo, in relevant scenes portraying rock bands in the film.