You cannot really have too much hope from a film titled Dishkiyaoon luckily for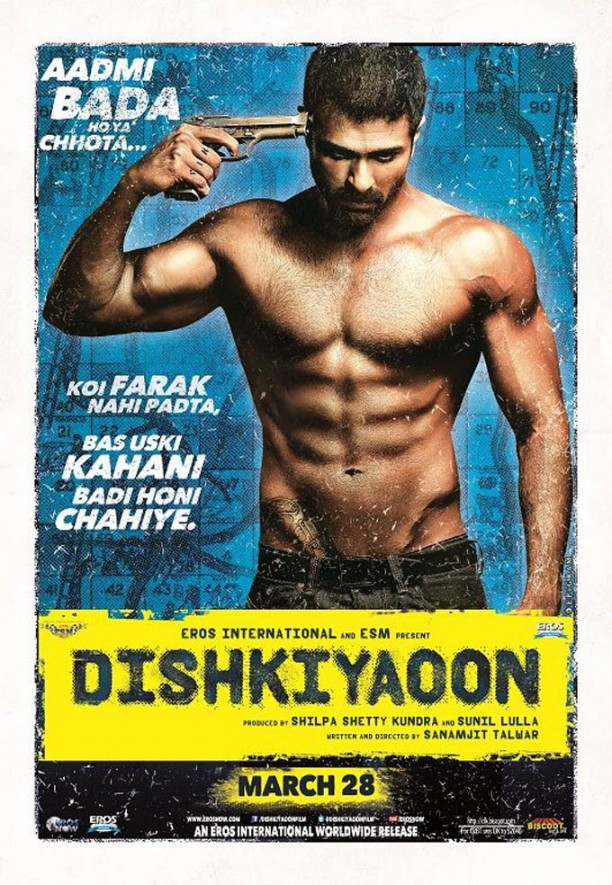 this Dishkiyaoon the promo saved its image as it was quite impactful. Harman Baweja making a comeback and leaving the pretty-boy persona behind for the stylish gangster, Sunny Deol and Prashant Narayan playing mentors to the young gangster and a host of other acclaimed performers by their sides such as Anand Tiwari and Aditya Pancholi. You expected debutant director Sanamjit Singh Talwar to maybe be the new-age Sanjay Gupta and deliver a true out and out gangster flick. So does he?
Well yes and no. Yes, because the film definitely does not pretend to be anything else. It doesn't switch to foreign locations for a long romantic interlude in the screenplay nor does it shy from grit and gore. It keeps its stylish and well, it keeps it gangster! However, what it did lack was action which you usually expect oodles of from such a film. But then again you are watching a film where the lead character claims 'dhanda goli se nahi dimaag se chalta hai'.
Dishkiyaoon in short is the story of young man with grand issues resulting from bullying. Yes Vikki Kartoos (Harman Baweja) perhaps needed a shrink more than gangster-mentor Mota Tony (Prashant Narayan). However, he gets the latter and so the 12 or so year old Vikki stops following the Gandhi-giri path his father preaches of and decides to fight the fight himself as per Mota Tony's teachings. Sure enough he grows up to become a gangster and dreams of ruling Mumbai one day. Mota Tony becomes the second father to him who too wants to see Vikki on the grand throne ruling Mumbai.
The first half of the film is Vikki repeating the events from his childhood to his collaboration with Mota Tony to Lakwa (Sunny Deol) in a dark room whilst playing snakes and ladder. It is only revealed at the interval portion (spoiler ahead) that the room is a prison cell (props to the makers for keeping the suspense alive for so long!). In the second half he returns to life outside the prison to finish what he's started, seek revenge for the death of mentor Tony and hopefully realise his life long dream of being the ultimate gangster in Mumbai. (And maybe win back his girl whilst doing all of that!). Ultimately the film feels like a grand journey of Vikki Kartoos fighting one bully at a time from the age of 12! He's desperate for acceptance in a world that he's not too great at surviving in as it gets the better of him at various points yet he sticks to his 'pehla bullet special hona chahiye" mantra and endeavours to win the ganster-world rat race with the power of his mind rather than muscle or trigger finger.
The foundation script of the film worked to an extent however you feel quite lost as its being narrated. Granted Indian cinema accustoms us to over-explanation however here it was a serious case of under explanation leaving the audience to just fill in the blanks. After a while it seems like a lot of hard work to find out why one character is doing a certain thing. To add to that the screenplay handles your attention span really poorly and you end up slipping into open-eyed-nap-mode at several points.
Though not a key element of the film the love story that intervenes does so in a limited capacity, thankfully, and does not intrude on the overall story. However, one does wonder why Vikki ends up with a nagging girlfriend begging him to leave his profession when on the night of their very first meeting he had very candidly told her what he does for a living. This portion of the film becomes the run of the mill "tum ye sab kuch kyun nahi chod dete?" sequence, which we've been seeing in films about bad-boys since time immemorial. You can't help but feel a little bit let down by Meera (Ayesha Khanna) because you thought she was going to be different!
The climax is somewhat the saving grace of the film as you did not expect the revelation to be what it was. You're glad for the unconventional treatment and most of all you're glad for the performances that brought by the climax. Sure we miss a grand action sequence that leads to all this especially considering we had one of the greatest action stars of Indian cinema returning to the big-screen with a film of this genre. We also have a couple of unexplained elements even as the film ends here, much like the unexplained portions in rest of the film.
Harman Baweja delivers a performance worthy of a nod. Yes he doesn't quite nail every sequence but is a pleasant surprise in many of them. The climax portion is done superbly by him. He looks the part and embodies the shrink-needing brooding gangster persona completely. Prashant Narayan however is the face you truly look forward to! He's a treat to watch and you lose interest in the film quite drastically once his character's time onscreen ends because it is then that you're subjected to cringe worthy Haranvi speaking Sunny Deol. The man delivered a total of one expression throughout the film and recited all his dialogue in the one solo tone. Anand Tiwari thankfully lasts the duration of the film and takes you attention away from un-interested Sunny Deol. Anand is a complete revelation! Who'd have thought that he'd end up as a bad-ass gangster on the big-screen one day and do it so convincingly! Sure we knew the man could deliver a knockout performance however this one is a notch up from the rest for having portrayed his versatility. We also have Aditya Pancholi delivering a noteworthy performance particularly in the second half. Hasan Zaidi is present in a small but very crucial role and does complete justice to his character. One hopes to see more of the young actor. Debutant Ayesha Khanna impresses in the limited scope of her character. No denying that she's got great screen presence.
Needless to say the a large reason for why you sit through Dishkiyaoon is not the compelling script or screenplay but rather the cast who, barring Sunny Deol, take their job very seriously and give it their all. You also sit through it for some moments of innovation by director Sanamjit Singh Talwar. (And the sizzling Shilpa Shetty music video at the end!) One only wishes he had a more impactful screenplay encompassing the potential filled script. What remains impressive and therefore are the reasons to check this one out are the performances, the refreshing packaging of a gangster flick, the director's dedication to the genre and the power-packed dialogues.