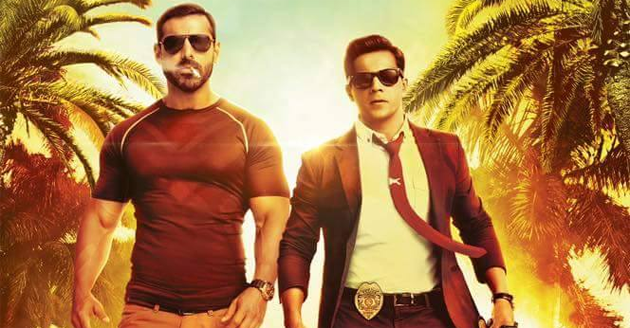 I don't know about you, but I for one have been eagerly waiting for buddy-cop films to come back into the limelight. Having grown up on the likes of Sholay, Main Anari Tu Khiladi and Munna Bhai, I could not have been more psyched to hear that the promising director who delivered a very hilarious Desi Boyz in 2011 is all set to regenerate this genre. Rohit Dhawan's latest outing, Dishoom, claimed to be riding high on the 90s buddy-cop film nostalgia and promised to be an action-comedy entertainer that is not to be missed. But does it really end up doing all these things?
Yes and no. For starters he delivered the action he promised. In fact it seems at one point that the older Dhawan brother had set out to give another fellow Rohit a run for his money as the movie delivered one interesting car chase after another. However when it comes to reviving the entertaining buddy-cop genre which required heartfelt bromance and comedy in oodles, the movie sadly falters.
Special Task Force officer from Delhi, Kabir (John Abraham), is tasked with finding India's ace batman who has been kidnapped, all the while ensuring the public never finds out that the star player is missing. To ensure he does not get paired with a protocol-following partner who will just get in the way, he decides to hand pick the most daft looking officer in Dubai Police, Junaid Ansari (Varun Dhawan).
Having Varun play the daft, dog-saving, simple-minded cop was probably Rohit's biggest mistake. It's not because his younger brother cannot pull it off, but because he as the writer/director just could not help not showing off his baby brother! It is great that the Dhawan brothers share such a loving relationship but sadly for Rohit this got in way of his objectivity, as Dishoom is very much a Varun Dhawan fanfare. He hesitates in writing Junaid as the daft, simple and goofy cop he ought to have been. In some scenes Junaid is exactly that but next minute he is confidently hanging off a helicopter. It was clear that Varun was to be the Veeru to John's Jai but it hardly worked out like this in the end.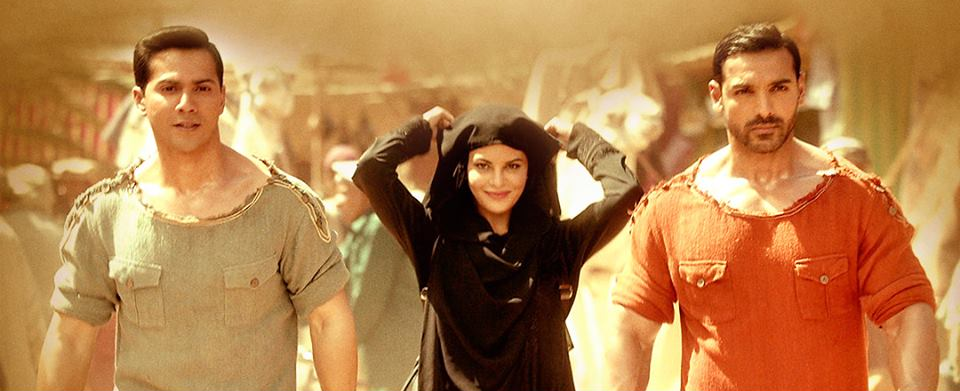 The lack of comedy and bonding between the two male leads also does not go unnoticed. There are one or two cleverly placed heartfelt moments between Junaid and Kabir to remind the audience that these two really like each other but that is all you get. What you needed in its place was entertaining banter that doesn't just rear its head on rare occasions but is effortlessly interwoven into the whole film. As for the comedy, that too is relegated too far behind in the things-to-showcase list and ends up missing out on much of the screen time.
To make matters worse whilst much of the story does okay in the 'logic' department, the lazy ultimate big solve by a bulldog, the force-fed patriotism and the utter disregard of how law enforcement agencies interact in foreign lands leaves you disappointed.
So Dishoom has faults in an abundance but rest assured none of them have anything to do with the actors cast. Varun in particular is given more to do and excels in each aspect. Whilst the world waits for him to return to do another Badlapur, I for one am eager to see him explore his comic side more and more. John aces the role of the stoic officer who is reluctantly recovering from a broken heart. I say it every time I watch the actor and I will say it again, he continues to be highly underrated. Jacqueline Fernandez surprises in a small role that does not go unnoticed. She's like a breath of fresh air and is clearly eager to explore her comic side. Her character had the background to be further developed but much like other parts of the film, the writers leave this aspect unexplored also. Akshaye Khanna makes a killer comeback as the villain and reminds you what you have been missing out on. Rahul Dev is wasted as the villain's sidekick, a role that a man of his stature should have no business playing. Last but not the least, Saqeeb Saleem has a small but crucial role that also does not go unnoticed. We need to see more of Mr Saleem.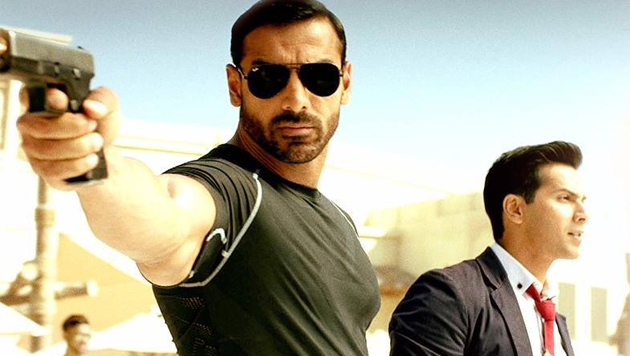 The suspense/thriller element in Dishoom works to keep you engaged and a fast paced screenplay helps in ensuring you are never bored but sadly the lack of chemistry between the male leads (not for a lack of chemistry between the actor but rather because of a fault in the writing), the lack of comedy, and the obvious Varun Dhawan fanfare take a toll on the whole film. Dishoom may not be a waste of your ticket money but at the end of the day it does not deliver all that it promised. If only Rohit and team had further developed this script instead of penning down half baked concepts, Dishoom had the potential to be every bit of a winner as Desi Boyz was.