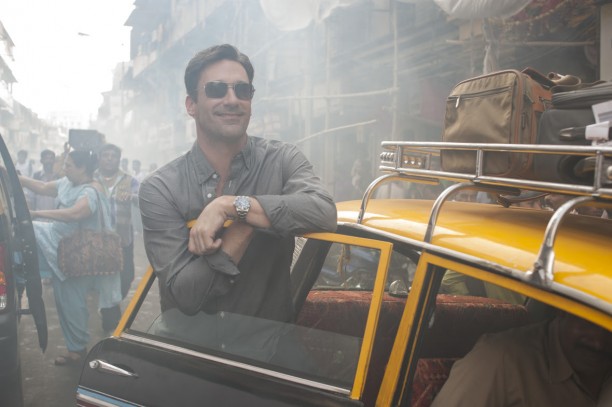 Legendary music maestro has AR Rahman has yet again broken new boundaries, with the amazing soundtrack for Walt Disney's new feature film Million Dollar Arm. Featuring music composed and performed by two-time Academy Award®-winning composer A. R. Rahman, the soundtrack includes collaborations with Australian hip-hop artist Iggy Azalea, Grammy®-nominated rapper Wale and Scottish singer-songwriter KT Tunstall.
Described by Variety as a 'jubilant wall-to-wall song score,' Rahman has created a powerful and driving sound that blends classic Indian styles and instruments with rap, rock and electronica delivering a celebratory soundscape to America's favourite sport.
"I'm excited to share with music fans some unusual collaborations with Iggy Azalea, Wale, and KT Tunstall on the music in Million Dollar Arm," said A.R. Rahman. "The soundtrack we created together truly captures the beautiful culture and energy behind the film – reminding us all how important it is to be open to new possibilities in life. The word Disney always brings a smile to me. I hope this soundtrack and movie stay blessed in many ways."
The first track 'Million Dollar Dream' features the edgy vocals of Iggy Azalea combined with inimitable sound of Bollywood playback singer Sukhwinder Singh.
A true artist who has redefined contemporary Indian music, A.R. Rahman is an icon in the world of cinematic scoring. Hailed by TIME magazine as the 'Mozart of Madras', Rahman has helped redefine contemporary Indian music. He has sold more than 150 million albums comprising of music from more than 100 film soundtracks and albums across over half a dozen languages, including landmark scores such as Roja, Bombay, Dil Se, Taal, Lagaan, Vande Mataram and more recently, Jodhaa Akbar, Delhi 6, Slumdog Millionaire, 127 HOURS, Couples Retreat and People Like Us to name a few.
Overall, Rahman has won 2 Academy Awards, 2 Grammys, a Golden Globe and a BAFTA. He has also won 25 Filmfare Awards, 3 MTV Awards, 4 IIFA Awards, 6 Tamil Nadu State Awards, 6 Zee Awards and 4 Screen Awards.
Starring Jon Hamm (Mad Men), Suraj Sharma (Life of Pi) and Madhur Mittal (Slumdog Millionaire) Million Dollar Arm, which releases in cinemas on 29th August, is based on real events and tells the story of a down-on-his-luck sports agent JB Bernstein (Hamm), who stumbles upon an intriguing idea when flicking TV channels between an Indian cricket match and Susan Boyle's unforgettable audition on Britain's Got Talent.
The film follows Bernstein as he flies to India in search of the next big major league baseball star. Finally, he brings the competition's winner and runner-up – two 18 year-olds – Rinku Singh (Sharma) and Dinesh Patel (Mittal) who have never picked up a baseball in their lives – to Los Angeles and sets about to teach them how to play the American game.
The film tracks the physical and emotional journey of the two young men as they set off on their adventure to a foreign land, and leads to life changing consequences, not just for them but surprisingly JB Bernstein – who also goes on his own personal journey of self-discovery.
The Soundtrack album to Million Dollar Arm is OUT NOW via iTunes and other digital stores.
We got an early listen so check out our review and we got an early screening of the film so check out the review!