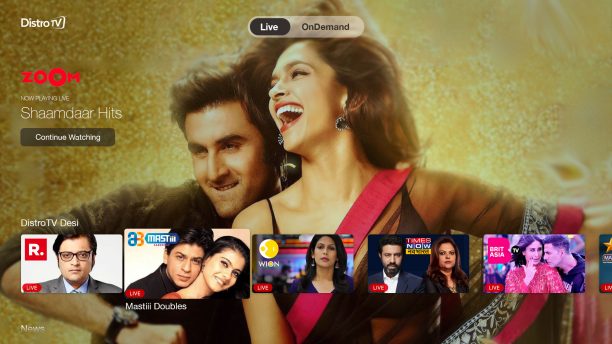 DistroTV, the largest, independent free ad-supported streaming television platform has continued to expand its content offerings to cater to a growing and diverse global audience. The platform has announced DistroTV Desi, which will be available across the US, UK, Europe, and Canada. Initially offering 15+ premier South Asian channel content for free — no subscription or registration necessary. This bundle is expected to grow exponentially over the coming weeks and and offer viewers a variety of diverse content focusing on news, entertainment & lifestyle geared towards the Desi (South Asian – Indian, Pakistani, Bangladeshi, Sri Lankan) population abroad.
"We're thrilled to provide our diverse and growing global audience with the content they crave, without any subscription fees," said Navdeep Saini, co-founder and CEO of DistroScale, parent company of DistroTV. "No longer will Desi communities in these major markets feel that they cannot access their favorite shows or channels, or feel restricted by associated costs. Our mission at DistroTV is to provide content for every viewer, on every device. And that's exactly what we're accomplishing with this latest bundled offering."
"This is just the beginning, we have many more channels in the pipeline. Smaller South Asian audiences with regional language roots like Gujarati, Marathi, Tamil, and Malayalam who have been largely ignored by mainstream media platforms can now watch their favorite channels in their regional language on DistroTV Desi, without having to depend on dodgy boxes and pirated apps," said Rajesh Nair, Vice President of Business Development & Content Acquisition at DistroScale, parent company of DistroTV.
With the DistroTV Desi Bundle, DistroTV aims to serve a massive underserved audience, who are lacking authentic entertainment from their home countries. DistroTV fills that void by offering these culturally rich channels in a free bundle so that diverse audiences can stream and enjoy content that might have otherwise been locked behind a subscription or paywall. Here are some of the channels on offer!
Entertainment & Lifestyle
● Zoom: India's leading Hindi entertainment television channel featuring Bollywood music, gossip & celebrity updates.
● Mastiii TV: India's number one music and youth channel.
● Arré: Edgy, new-age infotainment channel from India featuring young & diverse Hindi & English content.
● BritAsia TV: From the UK, a diverse channel with a focus on Bhangra, Punjabi Pop and Bollywood.
● MATV: From the UK, featuring Indian programming in Hindi, English, Gujarati and Punjabi.
● Akaal Channel: Punjabi language focused and Sikhi based lifestyle channel.
● Channel S: The number one British Bangladeshi lifestyle TV channel in the UK.
● NTV: The leading Bangladeshi TV channel from the UK catering to every culture, age group, religion and gender.
Audiences can enjoy these channels for free anywhere across a wide array of CTV and mobile devices, as well as on the web by visiting Distro.tv – no registration or signup required. To become a viewer and / or understand which channels are available for live and / or Video-on-Demand (VoD) access in the various countries, visit https://www.distro.tv or install DistroTV for free on Roku, Amazon Fire TV, Apple TV, Google TV, Samsung TV, Sony TV, iOS or Android.