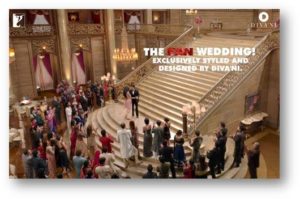 Diva'ni – a fashion couture brand of Yash Raj Films and KBSH Private Limited and India's first cinema inspired fashion brand, proudly stands as the styling partner for the year's most iconic film "FAN" starring Shah Rukh Khan.
Diva'ni has styled one of the biggest weddings sequences on screen – this wedding sequence in the film incorporates handcrafted vintage rose bridal ensemble for the bride along with hand surfaced French laces and zardozi ensembles for the friends and family. The "Bhutiani family" can be seen adorning ensembles inspired from Diva'ni's  Lakshmi Vilas Palace couture collection.
Keeping in mind the exclusivity of the film, each look in the wedding sequence has been curated and designed with hints of red, pink, midnight blues and golds. Diva'ni's team has worked closely in sync with the director (Mr. Maneesh Sharma) to deliver as per brief yet sticking true to its handcrafted Indian aesthetics. Everything from opulent paneled anarkali jackets to benarasi pure zari weaves have been curated especially for the film.
"Exclusively styled and designed by Diva'ni, one of the biggest weddings of the year on screen, this "FAN" sequence is all about bringing couture to costuming. As iconic as the film and the King Khan himself, this Diva'ni presentation is worth the anticipation! " – says Director Maneesh Sharma.