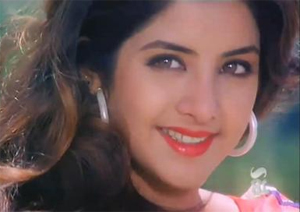 At midnight, on the 5th of April 1993, Divya Bharti fell tragically to her death. Bharti, a 19 year old actress, fell five stories from her apartment in Mumbai. Was it an accident? Was it suicide? Was it murder? The circumstances of Bharti's death remain, to this day, a mystery. A film is now being made based on Bharti's life. Times of India state that a source has highlighted, 'The film is not to sensationalise the loss of a good actress, but it is just to pay a tribute to her'. The film is titled 'Love behind the Border'. The actress casted to play Bharti has not yet been finalised. However, a Greek actress Tatiana Tsapikidou will be playing the role of Bharti's fashion designer Neeta. Bharti's husband, producer Sajid Nadiadwala, will be played by Vije Bhatia.
Bharti's film career, despite being short lived was extremely busy and made her an important name both in the world of Telugu and Hindi Cinema. Her 3 year long career was full of ups as well as downs. She told Stardust Magazine during a bad phase in 1992, "I wanted to prove myself. But I've fallen flat on my face. Now, I have to begin my climb all over again. Yet, I'm positive that one day, success will be mine."
Bharti was the sensation of the super hit song 'Saat Samundar Par.' Bharti was the Sri Devi of the Telugu Film world. Bharti was the first actress who Shah Rukh Khan acted opposite. She achieved the Filmfare Award for 'Lux new face of the year' for her role in Deewana. There are no answers for Bharti's death, but her life is an inspiration through her achievements.