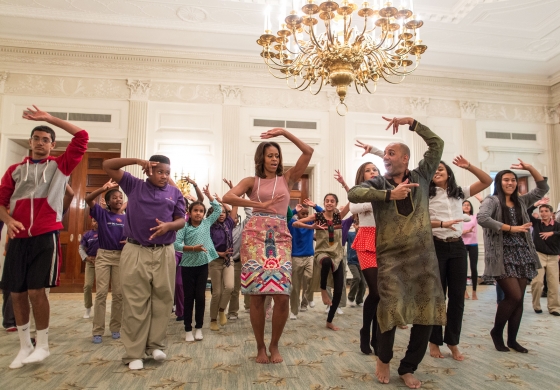 Bollywood choreographer Nakul Dev Mahajan, known for his work on the dance reality show So You Think You Can Dance, recently celebrated Diwali in a very cool and exciting way. Nakul was invited to come to the White House for a day of Bollywood, dance and a Diwali celebration! What is even more amazing is that First Lady Michelle Obama not only joined in the lighting of the diya, she also took part in a Bollywood dance workshop and tried out some moves. We caught up with Nakul to find out more about this fabulous event. Read on to see what he told us in this exclusive interview!
So how did the Diwali special event at the White House happen?
I got a call from my agents that Mrs. Obama had requested me to come teach Bollywood Dance at the White House in celebration for Diwali. She is a huge fan of So You Think You Can Dance and my work on the show.
How did you feel when you first got the call?
Speechless and floored
Tell us about what happened at the event.
The event started off with a Bollywood workshop with 40 children of all backgrounds. After the workshop, a reception was held, which was followed by speeches and the lighting of the lamp. Last, there was another reception held with Indian food and Diwali sweets.
What was it like to meet Mrs. Obama?
Surreal.
What did you teach her?
Basic Bollywood moves: a short combination, which included footwork and a few mudras (hand gestures).
How did she do?
She was a natural and exuded a lot of joy.
You also taught workshops at the event. Tell us about that experience.
It was an 80 minute workshop of around 40 students of all backgrounds. Mrs. Obama joined us 45 minutes into the workshop and graced us for 15minutes. It was mind blowing to know that Bollywood dance was being taught at the White House for the very first time. This was a colossal moment for South Asians all over the globe and Bollywood movie/dance lovers.
Why the song 'Jai Ho' as the music?
I wanted something familiar for the children and a song that had significant meaning of celebration and life.
How much did it mean to you to have the White House recognize and celebrate Diwali like this?
As a South Asian American, the moment was monumental and very emotional. It shows how this Administration has really broken barriers and has sent a powerful message across the world about celebrating diversity, respecting other beliefs and unification.
Also how much did it mean to you for you to be the one to present and represent Bollywood at The White House?
I have no words to express how grateful and blessed I feel to be given this opportunity. After weathering the cancer storm earlier this year, all this seems like the prize at the end of the rainbow.
What would you say about the overall experience?
Unfathomable

What does this exposure mean for Bollywood and for Dance?
Any platform of this stature that gives the Bollywood industry and Dance recognition is always a great thing.
(Official White House Photo by Chuck Kennedy)