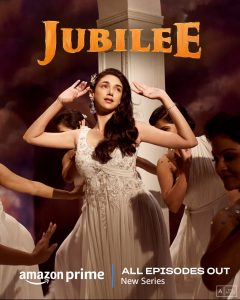 Jubilee (Prime Video, Episodes 6-10)
After a brief "interval" as Prime Video called the break between the first five episodes and the remaining five episode, Vikramaditya Motwane's Jubilee, looking at the development of Indian cinema from its beginnings to the 1950s, returns with more angst and dramatic conflict than the streaming platform has seen in recent times.
It is interesting that Motwane remarkable ride through the bumpy corridors of our celluloid dreamers's imagination, chooses to end on a Guru Dutt like defeatist note. At the end of Episode 10, there is a young character named Naren(vaguely modeled on Kishore Kumar) who sings a song clearly inspired by Yeh duniya agar mil bhi jaye toh kya hai from Guru Dutt's Pyaasa.
Nobody is happy at the end. Every character is unhappy or dead. Motwane's Devika Rani, rechristened Sumitra Devi, and played by Aditi Rao Hydari is acertifiable alcoholic at the end. Can't blame her.
If we are to believe Motwane and his writers, the drama that unfolded behind the scenes during the shootings of Hindi films in the 1940 and 50s was far more exciting than what we saw on the purdah .
Yes, the arc of ambitiousness in Jubilee never flags. The plot remains breathless in its arching allusions right till the end when the main characters are expected to make tough choices, in and out of the court.
Some of the performances that I had loved in the first five episodes did begin to get monotonous in the second act, especially Apaarshakti Khurrana who wore the same hangdog expression right till the climax as if his period trousers were two sizes too small. It seems that some of the salient characters after getting a firm affirmative grip on their characters allowed that grip to slip.
But some of the supporting actors especially Shweta Prasad who plays Khurrana's compliant but intelligent wife, have actually contributed more than meets the eye.
If you have watched the first five episodes, do not miss the remaining episodes. Altogether the ten episodes offer vivid sharp stinging glimpses into the golden era of Hindi cinema when superstars were made and unmade by powerful studio owners. There are hints of the Russians and Americans taking hold of the Hindi film industry. These, I suspect, are the writers' equivalent of the underworld's presence in the movie industry.
The mix and match between what was and what could have been is fairly unerring in Jubilee. For all its flaws (unnecessary darkening of the characters) Jubilee is …well… a jubilee hit.