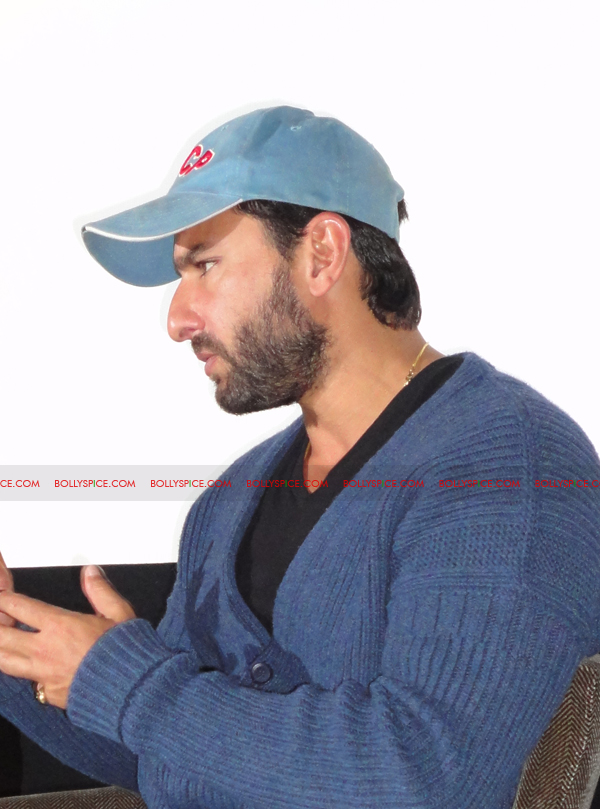 Eros International held a press conference for their upcoming co-production with Illuminati Films, Cocktail with leading actor Saif Ali Khan and producer Dinesh Vijan at their London headquarters last week.
Cocktail, which releases in the UK and worldwide through Eros on 13th July, also stars Deepika Padukone and newcomer Diana Penty.
Synopsis
When Veronica (Deepika Padukone), 24, and Meera, 23, start living together during the summer, they have different agendas. Meera is awkward and is recovering from a hoax marriage to Kunal (Randeep Hooda) who has duped her off her live-savings by using pretence of setting up a base for them in London. She is spending her time under Veronica's roof until she can get some footing and find a job in this foreign land. Veronica on the other hand is a wild-child, impulsive, constantly looking for distractions to escape facing issues of a troubled upbringing. Being poles apart brings the two close, forging a loyal and solid friendship.
Soon Gautam (Saif Ali Khan), 32, enters their lives, moves in with them and has a whirlwind relationship with Veronica much to Meera's protective disapproval. Meera does not like Gautam because his 'don't give a damn' attitude reminds her of her selfish husband who had conned her into coming to London in the first place. Both Gautam and Veronica, believe in living the moment and they honestly consider this a fling rather than a serious relationship. But as three people living together they all have a blast, though their intentions for each other don't change, their friendship starts to grow strong.
So when there is friendship and romantic love, where one can't exist without the other, and you have to make a choice, what would you choose?
Set against the vibrant backdrop of London and Capetown, Cocktail is directed by Homi Adajania and written by Imtiaz Ali and Sajid Ali.
Check out what Saif Ali Khan had to say at the Press Conference of Cocktail in London!
Cocktail made for NRI's?
There is a certain space we are comfortable in. We have looked and tried to do new things as well. But one of the spaces we are most comfortable in is a kind of a love story in perhaps the most sophisticated way, which perhaps the multiplex audience in India or the NRI audience in England and America would appreciate more than smaller centres in India. This seems to be a movie like that. We always hope that apart from those two or three areas of interest, the film could connect to parts of rural India. But we are okay with without that happening. We are budgeted accordingly and we know what our target audience is. It seems to be, in our country, it is difficult to make a film that crosses over, both class and mental boundaries. That is the challenge.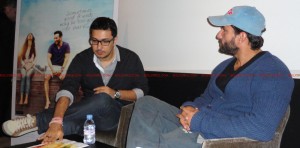 Different films and their different audiences
Some films are effective but very basic in their content. It may be a revenge story or some drama people connect to. But to make something that is impressive in terms of content and photography and maybe a slightly different, sophisticated or complicated emotion, you will find the simpler or the poorer people are in India, they will connect less to complicated emotions. Whereas fortunately or unfortunately, the more money you give somebody, the more complicated their emotions seem to become. They want a little more personal freedom, they want different things in relationships, the concept of space and selfish kind of need is perhaps something who is better off understands. Whereas in India you sometimes have six families sharing a room, so the concept of personal space is not going to be the same with someone who shares an apartment in London with their best friend.
But we can't make only films for those people because that would be in a way regressive for us. There might be a lot of money to be made but it is still a regressive thought. We try to be progressive and try to think according to our mind-set and it turns out that we make a film that is primarily for an upcoming Indian middle-class and an NRI audience.
Bollywood films to crossover? Saif doesn't think so!
I don't that think that (a Bollywood film crossing over) will be ever possible or whether that is ever necessary. I mean when you eat curry in England it is not the same as curry in India. I don't think films and cultures are meant to crossover otherwise you would not have different cultures. The Indian is different to the English person because they are hugely different in their upbringing and their cultural background is completely different. I like being Indian and living in India and understand that culture. You also have the numbers in India, probably the only thing you do have is the numbers. You have crores and crores of people to reach then why are trying to reach 25 million Europeans? There is no need. For example, they don't understand songs. They don't understand why you want to sing a song in the middle of a scene whereas you lose half a million of your audience if you don't have songs. You have to know who you are making the film for.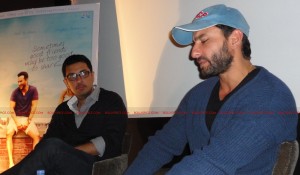 Advanced UK Press Previews for Cocktail? No Chance!
Maybe we are not sophisticated enough yet to know when to show what kind of screening. I am sure we will learn. But one of the conclusions we are coming to is to try too hard is wrong. To try to seduce members of the press by being charming and calling them home for dinner is wrong. Recently I have been told that some actors call journalists home for dinner and they will sit and try to make friends. If you happen to become friends, that is great. But to go out of your way to pretend to be friends in order to garner a good review does not work. You have a press show you give them champagne and if they don't like the film they will bitch about it anyway so you are wasting your time. Also, I think it is a bad idea to put ten press people in a room and show them something. Then you start watching it as a competitive reviewer which is not how our films are meant to be seen. I think films are meant to be seen by five hundred people in a theatre and if there are two reviewers in the theatre, they might actually get a sense of what that film actually is about because there is something interactive about the screen and audience energy that is there in the room, especially with a hit film.
If you have ten reviewers in the same room, they might actually get a little bit more intellectual than they are meant to be and start reviewing it 'better' than the next guy. That is my experience and I am not concerned with press shows and trying to impress the reviewer anymore. I am trying to impress the audience. I probably won't even read a review, beyond a point. I think Cocktail will still take a remarkable opening in the UK. I am extremely confident of that.
The plot
The first part is really fun where you have these three different people living together. The second part is really fresh with Dimple Kapadia playing my mother in the film. She is trying to get Gautam married and he tells her that he is in a very stable relationship to get her off his back. When she comes to England to surprise him, he is living with these two girls and there is fun there as well. The girl he is living with (Veronica) is very scantily clad at that time, dressed as a policewoman and has dressed me in some lingerie. Veronica is quite a wild woman. She is probably one of the wilder characters that we have had in Indian cinema. She is looking for stability in love. So who this guy falls in love with, how and what it means to betray a friendship in the name of love are the themes that we deal with in Cocktail.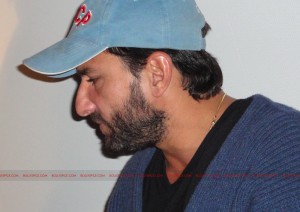 Gautam – The Delhi boy
Gautam is from Delhi and is really excited to be at a nightclub in London with pretty girls. The fact that he can take somebody home quite easily is something he has not gotten over yet. Also his diction and the way he speaks are different. It was interesting for Homi to direct me like that. Gautam would say everything in a Delhi accent and we worked hard on that. He thinks he is quite cool but he is actually not. He is a very simple chap and little bit dumb in that way. That is why he allows himself to get into that triangle with these girls because he thinks it is simple. But life is not as simple as he thinks it is.
He is good in bed!
The film has a U/A certificate. There was a line in the film where a girl says he is quite good in bed. The censor said that they were uncomfortable with the word 'bed'. I suggested red instead of bed but they just muted it.
'Do this scene again' said Homi Adajania
Dinesh had a lot of faith in him. When he offered me Being Cyrus he was not sure of making that film as well. I don't know how interested he was in making a mainstream Indian film. He is a Parsi and could just about speak Hindi. He then learnt Hindi for Cocktail and learnt the dialogues. He got really into it. He is a very intelligent, focused and hardworking person. As usual, he was the first person and last to leave during the filming. He directed us so meticulously. I would often look at Deepika and say 'I feel like I have not done a movie before' or that I must have been really bad in all the other films because nobody has asked me to do this as many times. Homi would say do this scene again and be a little kinder in the middle and just directing and directing. I really thought the first couple of takes were okay as well. But he did not. I hope it is something special.
Imtiaz Ali sold us the story
Imtiaz Ali sold us the story of Cocktail at a fairly healthy price which is great because normally a writer is the main guy who puts the story together but he does not get the financial respect other people do. Here the writer is quite a big star. So he gets paid well and it is a good story. You wonder why he does not want to direct it so you are hoping that you paid a premium that is why you have the script. It's not something he passed on to you out of friendship because then you would suspect it's not really something he wants to make himself. I think he would not have minded making this film. It is a quality screenplay.
Production No. 3
Cocktail was a working title. Somebody had written it down as 'Production No.3 – Cocktail' because it is a mix of different personalities. We kept calling it Cocktail and then somebody said we should change the title to something like Jawaani Deewani. You know when we were making Cocktail, I thought Agent Vinod was the coolest movie we made. Dinesh was going on about Cocktail, I would say it's a chick-flick rom-com whereas I am making the big hit. (Laughs) We just learn. Cocktail is already hotter than Agent Vinod ever was. Dinesh showed me the poster of Cocktail and I don't know if it's good enough because you can't see anybody's face. We are all looking left and right and laughing. This might be niche but everyone has loved it.
Watch the latest dialogue promos of Cocktail here