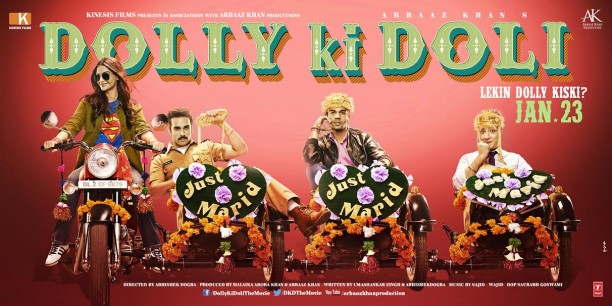 Dolly Ki Doli follows hot on the heels of the success of Khoobsurat. In light of Sonam Kapoor delivering one of her most charming performances to date in the Disney rom-com, it is hard not to have reasonable expectations from Dolly Ki Doli. Furthermore, it is an interesting venture from Arbaaz Khan Productions, whose prior releases were the testosterone-filled Dabangg franchise.
Dolly Ki Doli, directorial debut of Abhishek Dogra, also stars Rajkumar Rao (Shahid, Kai Po Che and Queen), Pulkit Samrat (Fukrey) and Varun Sharma (Fukrey) in pivotal roles. The duo of Sajid-Wajid, unsurprisingly, have been engaged to deliver the film's soundtrack with featured vocal artists consisting of Sunidhi Chauhan ('Sheila Ki Jawani' – Tees Maar Khan), Mamta Sharma ('Munni Badnaam' – Dabangg), Rahet Fateh Ali Khan ('Tere Mast Mast Do Nain' – Dabangg) and Divya Kumar ('Shake Your Bootiya' – Finding Fanny).
The album commences with Phatte Tak Nachna, a fragmented and formularistic track that is dead of arrival only to be revived, momentarily, by the powerful and enthusiastic vocals of Sunidhi Chauhan. If Chauhan found this number to be the train wreck that it is, she does a fantastic job at not showing it. Lyrically, it is nonsensical if not audibly illegible while musically, it is dated and sans an ounce of originality. Luckily, Sunidhi's dependable vocals and Sonam's spirited avatar make the track enjoyable onscreen.
Fashion Khatam Mujhpe is next and is more of a dismal fare than its predecessor. Mamta Sharma's outing following 'Munni Badnaam' have been weak at best, best being 'Fevicol' (Dabangg 2). Therefore it is frustrating that Sajid-Wajid have not retired her item gigs already. Malaika Arora Khan's performance and a particularly jaw-dropping-ly fantastic one from Rajkumar Rao make this ear-splitting track marginally tolerable onscreen. Other than that, it is a complete write-off.
Babaji Ki Thullu is a decent attempt from Sajid-Wajid at composing something different for a change. The lyrics are hilarious enough and Wajid's rendition is commendable with a good performance from Danish Sabri ('Radha Nachegi' – Tevar). Musically, it is equally decent, the techno putting a spunky spin on the track. It definitely works as a situational but has a discounted likeability on its own.
The title track is agreeable, thanks to Divya Kumar's signature enthusiasm and desi flare. Musical arrangements are relatively fair, not as grating at the initial two tracks but not particularly remarkable either. Similarly, lyrics are strictly satisfactory and effective. The track is definitely appealing but one with a short shelf-life.
Mere Naina is a second derivative of 'Tere Mast Mast Do Nain' (Dabangg) after 'Dagabaaz Re' (Dabangg 2) and is the weakest of the lot. If you can get over the condescending nature of the track, Rahet's flawless rendition and the familiar arrangements may just appeal to you.
In conclusion, Dolly Ki Doli is yet another lackluster effort from Sajid-Wajid filled with tried and tested template-driven drivel that is, frankly, patronising audiences. Hopefully they have a made new year's resolution to turn a new leaf because currently it is difficult to foresee anything of great consequence from the duo. Favors from friends/godfathers in the industry can only assist so much. The soundtrack is particularly disappointing for being such a poor accompaniment to a film with such an interesting premise.