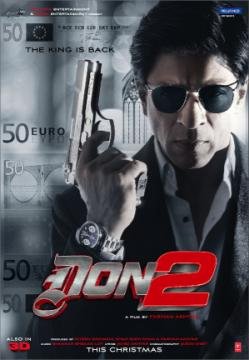 Don 2, the need we say highly anticipated high octane Indian action film of 2011, entered the Top 10 UK Box Office on its opening day, December 21st, two days ahead of its worldwide release on the 23rd December 2011.
Released by Reliance Entertainment, Don 2 has garnered positive reviews from audiences and critics alike. Don 2 marks Shah Rukh Khan's best action film to date and sees Shahrukh experimenting with varied looks from debonair to dishevelled as he charms the heart of the audiences globally.
Farhan Akhtar sets a whole new benchmark in Indian filmmaking with this latest release, combining, state-of-the art technology, high-tech action sequences and the most gripping and stylish narrative to steal out of Indian cinema in recent years.
Don 2, the sequel to the 2006 remake of the Amitabh Bachchan classic, is a stylised action-thriller with a spectacular 3D and 2D experience. The film is injected with the infectious chemistry of Shah Rukh Khan and Priyanka Chopra and also stars Boman Irani who returns to his earlier role as 'Vardhaan', and Om Puri, Lara Dutta and Kunal Kapoor who enter the sequel in new roles to add further twists and layers to the intelligently calculated plotline.
What's more, the film has opened to packed cinemas across India and the world with rave reviews. Renowned film critic Taran Adarsh gave 'Don 2' a 3.5/5 star rating and describes the film as:"The right package to woo the movie-going junta – SRK in top form, a stylishly crafted story, pulsating and invigorating action and stunts."
Nikhat Kazmi, a well-known Bollywood film critic also gave a smashing 4/5 star rating and quoted "Don 2 is a classic action/crime thriller that doesn't let go, even for a moment. More importantly, the plot has been finely crafted, with every twist and turn falling into place like a complicated albeit neat little jigsaw."
We here at BollySpice.com also gave the film a rave review with 4 stars saying, "All in all Don 2 is a smashing finale to an already interesting line up of films released this year. It's a slickly edited, edge of the seat, cool, sassy and well made product with a gripping plot to boot. Here's hoping they decide to make a third installment as there's definitely potential to explore more of Don's wicked antics, watch him outwit the good guys again and recite his by now (in)famous line 'Don ko pakadna mushkil hi nahi…'"
Don 2 is currently open in theaters worldwide!