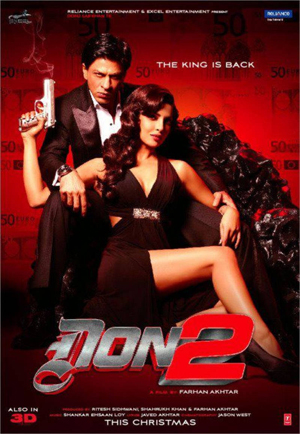 Don 2, for all intents and purposes is an important film for Shah Rukh Khan especially after the flak he received for Ra.One and all its overkill and hype. The first Don, released in 2006 was a remake of an Amitabh Bachchan classic of the same name with a slight twist at the end, and its sequel moves the story forward.
Don 2 takes place approximately five years after the first one with the ruthless Don (Khan) still at large and on every wanted list across the globe. Inexplicably, he surrenders himself to Interpol officers Roma (Priyanka Chopra), Malik (Om Puri) and the authorities in Kuala Lumpur in the hope of gaining immunity from criminal prosecution in exchange for information on all his contacts and illegal activity.
Once inside prison, he befriends his archenemy Vardhaan (Boman Irani) and escapes with him to carry out a cunning plan that will bring Europe to it's knees and obviously earn him wades of cash in the process. He enlists the help of his loyal moll (Lara Dutta) and an ex-hacker (Kunal Kapoor) to bring his ambitious plan to fruition. The rest of the plot deals with the obstacles he faces with Roma, Malik and the European authorities hot on his heels.
Don 2 is a genre that has rarely been successfully implemented in Bollywood. It's slick, explosive and finely crafted with action sequences hardly ever seen before on the Indian screen. Sure it is along the lines of The Bourne Identity and Mission Impossible series in some respects. but in its entirety it's a completely original product. Technically, the film is awesome with a special mention to Jason West for his outstanding cinematography.
Farhan Akhtar, who returns to direction after nearly five years displays a solid grasp of the subject at hand never once digressing from the unfolding plot with unnecessary toilet humour or unwanted songs (in fact there's just one song in the whole film which is entirely situational!).
All the characters are strong and believable and the best part is none of the protagonists or antagonists are entirely black or white. They're all grey, which make them relatable on some level. What's more the film ties in well with the first part (and I'd definitely recommend you watch it first as there are quite a few references to it), making it a proper sequel, and not really a standalone film like say Dhoom 2 or Murder 2. And, it's one of those rare sequels that's better than its predecessor in almost every respect.
The action sequences are mind blowing and don't come across as fake or forced into the plot – and thankfully we're spared ridiculous situations where the hero's shirt rips open and he goes on a killing rampage. The 3D compliments the film too and is impressively done for an Indian film.
Shah Rukh Khan is in fine form as the wily Don and makes a fabulous villain. His wit and one-liners are deliciously wicked and he makes a dark character extremely likeable with his convincing portrayal. Priyanka Chopra is good in whatever little she has to do and kicks some serious butt in the climax, but she should have been given more footage given her equation with the lead character. Her relationship and flirtatious interactions with Don though, are interesting and her chemistry with Shah Rukh is quite electric. Boman Irani is a class apart and stands tall as Vardhaan – in fact it'd be safe to say that the film rests entirely on his and Shah Rukh's shoulders. Om Puri is adequate as Malik and Lara Dutta and Kunal Kapoor are just about okay. Saahil Shroff is handsome but his act isn't really anything to write home about. By now, the cat's already out of the bag, and yes, Hrithik Roshan does indeed have a cameo in the film. He is dapper and dashing as usual, but his appearance isn't entirely justified and nor is he properly utilized, which is about the only minor hitch with Don 2. His character doesn't really interrupt the flow of the plot in any way though so that's a bonus.
All in all Don 2 is a smashing finale to an already interesting line up of films released this year. It's a slickly edited, edge of the seat, cool, sassy and well made product with a gripping plot to boot. Here's hoping they decide to make a third installment as there's definitely potential to explore more of Don's wicked antics, watch him outwit the good guys again and recite his by now (in)famous line 'Don ko pakadna mushkil hi nahi…'