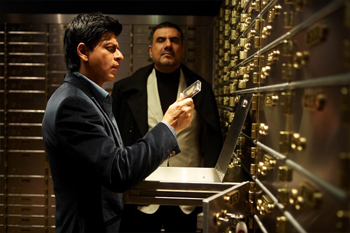 Don 2, the high octane Indian action film of 2011, remains strong in the Top 10 UK Box Office where it has been since its opening day on 21st December 2011. It's opening weekend saw it take over £1 million in the UK and $2.6 Million in the US and Canada.
Don 2 is the 5th Hindi UK release to sprint past the £1million mark in its opening week and the 3rd Bollywood production in 2011 to gross over £1million in UK Box office takings (alongside Ra One and Bodyguard). It is also the highest opening Bollywood film in Canada's history.
Released by Reliance Entertainment, Don 2 has garnered positive reviews from audiences and critics alike. Don 2 marks Shah Rukh Khan's best action film to date. It sees Shah Rukh experimenting with varied looks from debonair to dishevelled as he charms the heart of the audiences globally.
Farhan Akhtar sets a whole new benchmark in Indian filmmaking with this sharp thrill ride combining, state-of-the art technology, high-tech action sequences and the most gripping and stylish narrative to steal out of Indian cinema in recent years.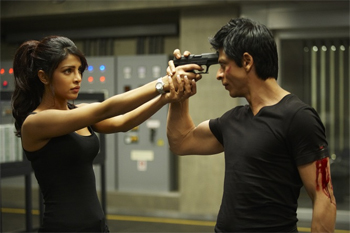 The reviews from around the world give a clear indication of why this film is such a hit:
The New York Times critic David DeWitt described it by saying "If "Mission: Impossible" and "Ocean's Eleven" had a bombastic, funny and slick cousin, it might be "Don 2."
Renowned film critic Taran Adarsh gave Don 2 a 3.5/5 star rating and describes the film as:" The right package to woo the movie-going junta – SRK in top form, a stylishly crafted story, pulsating and invigorating action and stunts."
Don 2, the sequel to the 2006 remake of the Amitabh Bachchan classic, is a stylised action-thriller with a spectacular 3D and 2D experience. The film is injected with the infectious chemistry of Shahrukh Khan and Priyanka Chopra and also stars Boman Irani who returns to his earlier role as 'Vardhaan', and Om Puri, Lara Dutta and Kunal Kapoor who enter the sequel in new roles to add further twists and layers to the intelligently calculated plotline.