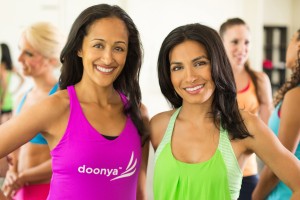 Introducing Doonya: the first Bollywood fitness lifestyle brand for South Asians around the world. Led by New York-based Priya Pandya and Los Angeles based Kajal Desai, Doonya: The Bollywood Workout is a fitness program that takes Bollywood-inspired movements and connects them to your body's muscles. With classes offered all over America, Doonya: The Bollywood Workout is also available as a 3-disc workout DVD. The brand also releases new workouts weekly on their YouTube channel, which has over one million views.
Doonya started as a dance school in Washington DC. As the company grew with branches in New York and Los Angeles, and after their infamous performance on The Oprah Winfrey Show dancing for Aishwarya Rai and Abhishek Bachchan, Priya and Kajal noticed incredible transformations in their students' bodies.
The duo studied fitness with the intention of creating a healthier, happier world (a "Doonya").
"We wanted our program to be authentic and yet accessible," says Kajal. "Doonya is based on moves we learned in our Bharatanatyam, Kathak, Yoga, folk and Bollywood classes. After studying fitness for years, we learned how to teach the movements we grew up with in a way that really change your body."
"South Asians love to dance," says Priya, "but working out isn't something Desis are known for. With Diabetes, coronary artery disease and obesity as serious issues plaguing our community, we wanted to create a program that the people we love wouldwant to get up and do in the morning."
"Doonya provides a workout that is fun for the entire family! You'll dance to songs you recognize using moves you already know, but will do them in a way that gives you results. You can burn up to 800 calories per hour!" says Desai.
The Doonya program has also become a major social network for South Asians. In addition to the non-South Asian students, Doonya classes are full of young professionals who miss dancing; aunties who love to dance, but haven't ever worked out; and, most interestingly, the newly arrived NRI who misses home.
Deepti Dahle has been coming to Doonya classes in New York for a year and a half. She moved to the U.S. after getting married with a visa that didn't allow her to work and without much of a social circle. But, Deepti says, "Doonya changed my life in every way!"
She has lost and kept off 12 pounds, and has seen the major benefits that come from Doonya's happy, healthy philosophy.
"I never thought I would love living in the U.S. Since joining classes, I've learned to be independent and travel alone – which is not easy when you move to a new country. I am focused on what and how much I eat. And I now have an amazing group of friends! Seeing them each class is like a reunion and makes me feel home."
Doonya released its 3-disc DVD in February 2013 and is a top-rated fitness DVD on Amazon. Over the past year, Doonya has been heralded as a better, more intense version of Zumba and has been called "The happiest workout in New York City!"
This past fall, Doonya launched their first TV series with Zee TV Americas. Watch the first episode!
View Doonya's 'Nagada Sang Dhol Baje' workout from Ram-Leela with over 260,000 views.