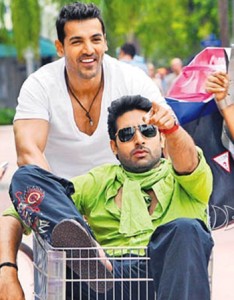 Fans of the original 2008 hit Dostana have waited eagerly for the chance to see the boys back on screen. Finally the sequel has been announced: the script set and the lead actors Abhishek Bachchan and John Abraham are ready to go on the floors in 2012.
Filmmaker Karan Johar confirmed the exciting news tweeting, "DOSTANA 2 is definitely starting next year….Script is locked…Abhishek and John are ready!!! The boys are back!! Tarun (director Tarun Mansukhani) is all set". As soon as the news was broken on the micro blogging site many took to the site to voice their excitement to Karan and the star cast.
In the original romantic comedy, Abhishek and John played to guys who pretended to be gay in order to rent an apartment from an older lady, but found themselves both falling in love with the same girl – their roommate, Priyanka Chopra. The film which was directed by Tarun Mansukhani and produced by Karan, featured the two actors alongside Priyanka Chopra and the film went on to be a blockbuster.
Although the boys are the same for the sequel it will be Katrina Kaif who will replace Priyanka as the female lead and this time they will be in London. While fans will be excited to see the possibility of Katrina along side the boys, fans will certainly miss 'Desi girl' Priyanka Chopra.
We know we can't wait to find out more and will bring you all the news as it comes available so watch Bollyspice for all the Dostana 2 scoop!