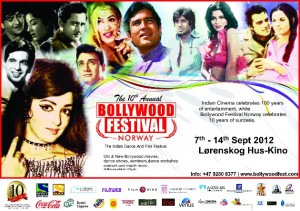 Bollywood Festival Norway 2012 completes 10 years and as Indian Cinema too completed 100 years, there are celebrations for both in Norway. Enjoy the mixed movie schedule exclusive at Bollywood Festival Norway 2012.
The year 2012 will be celebrated as a centenary milestone to showcase the cinematic heritage of the Indian film industry in the last 100 years.
"We have selected old movies which are evergreen and ever alive. Awara, Madhumati, Johnny Mera Naam to name few. We also have movies of Satyajit Ray who showed the true meaning of Indian Cinema to us. As every year, we have been through a tough selection of films to bring you a taste from every aspect from 100 years of Indian Cinema History. " adds Qureshi- Festival Director.
Bollywood Festival Norway is a public festival, where films, music and dance is the focus. These are good tools for creating better cultural understanding between different peoples and integration between people in Norway. The festival also creates an opportunity for local artists and artists from abroad to show their skills to the public in Norway.