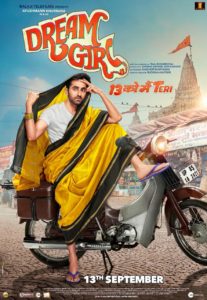 Ayushmann Khurrana goes looking for the out-of-the-way, the strange and different, something others aren't doing whenever he does a Bollywood film. From Vicky Donor to Andhadhun, they are all twisted tales of everyday life and his latest Dream Girl is just as out there. A man who can play any woman but a pregnant one, uses his talent on a phone line as Puja and slowly becomes every man's greatest fantasy. Meet Bros are an odd choice for this album, as they are better known for once off remixes and dance hits, having delivered some of the best item songs of the last 5 years, so it will be interesting to see what they can bring for a full album.
"O Radhe Radhe Radhe, tere bina Krishna to lage aadhe aadhe," is the motif line of the first song of this album; a peppy, upbeat and catchy number Radhe Radhe. Its rhythm says wedding song (or at least song played at weddings) with heavy emphasis on traditional drums and shennai. Nevertheless, at heart it's a love song, a song of a couple who have come together. The electric guitar provides a decent flourish to the sound, but it's the flute that signals a gentle, private moment that touches the heart the most. Later down the album is the Radhe Radhe Remix, a change up to mandolin and whistling sounds, ruins this sound with an oppressive beat; possibly written as an early Ganpatti hit.
Dil Ka Telephone may start like a lot of other Meet Bros songs but Jonita Gandhi proves to be a strong replacement for Kanika Kapoor and Nakash Aziz is not far behind. The drum and clapping sound that makes up the beat is not new for the musical team, but it provides a neat twist to some very fun lyrics. A little English "I'm searching for your love" keeps turning the interesting dial up but in the end, it just doesn't do enough to even get past 'Radhe Radhe.' This one also gets a remix later down with the same overpowering beat; Dil Ka Telephone Remix is headed for the club scene.
If a qawaali is needed in a film, music directors turn to a qawwal to sing it. Ik Mulaqaat uses Altamash Faridi to belt out a pain-filled sad song. Meet Bros are careful to add western instruments just so that it has a modern feel but doesn't lose its Indian classical roots. The problem then come with Palak Muchachal who isn't a qawwal in herself, so Meet Bros find the solution here to be a slight change to Italian feel via a mandolin. This separates the male and female parts nicely and allows for these two different levels of singer to stand on the same stage.
Still, a lot of music directors seem to forget that listeners have memories and are likely to remember this sounds a lot like 'Mere Rashke Qamar' from 2017's Baadshaho and if they can go further back, they are likely to remember that the original of this (as with so many other qawaalis that are used in Bollywood) is Nusrat Fateh Ali Khan, who wrote this song originally in 1988. Even an unplugged edition for Ayushmann Khuranna's voice at the end of the album (Ik Mulaqaat Unplugged) fails to get past this, although the effort is valiant, making use of acoustic guitar and flute.
Having dealt with three originals and three remakes, the last song on this album is Gat Gat featuring Jass Zaildar and Khusboo Grewal. While this is not a straight remake in any sense of the word, with it being significantly different from the original tune it came from ('Pyar Purana' by Jass Zaildar), it fits right in with a new trend in Bollywood for 2019 of 'remodeling' Punjabi pop songs for reuse in Hindi films. In a sense this is a good thing as it's bringing to light Jass Zaildar as a performer in India's growing pop scene, but as a song its not of real use.
Analysing the album shows that 'Radhe Radhe' and 'Dil Ka Telephone' are solid sounds, doing exactly what is asked of them and at the same time finding a little wiggle room for some variety. They are both peppy and listeners and audiences are likely to be humming these well after hearing them. After that it looks like Meet Bros ran out of steam: 'Gat Gat' is one of four remixes, 'Ik Mulaqaat' is a tired remake of a song done so many times, which could not be improved by Ayushmann's melodious voice and even the classic Meet Bros heavy beat version of a song didn't come good in this instance.