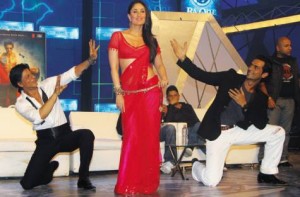 The momentum and excitement for the release of Shahrukh Khan's epic project Ra.One is reaching a fevered pitch. Not only has King Khan set into high gear promoting the film all over India, but Red Chillies Entertainment and the makers of the film are all set to wow the International markets as well.
The producers are planning to take the movie to their fans across the world with multiple premieres. Bollywood aficionados living in London, Dubai and Toronto will be ecstatic to learn that the superstars Shahrukh Khan and Kareena Kapoor will be attending world premieres of the magnum opus.
Though there are rumours that Kareena will be unable to attend the Toronto premiere due to commitments she has already made for the Aamir Khan starrer Dhuaan (Kareena is allegedly doing underwater training in preparation for a special sequence in Dhuaan), Bebo is adamant that she at the very least be present at the Dubai and London events, as this is the biggest film of the year for the actress.
And though there were rumours abound saying that Lady Gaga would attend the London premiere of Ra.One that too was simply only the baseless buzz of the media.
The premiere in Dubai is set for October 24 at The Grand Cineplex, the premiere in London on October 25th at The 02 Cineworld and the premiere in Toronto on October 26 is at The TIFF Bell Lightbox. Seems that Bollywood is taking a globe-trotting trek and bringing G.One to our hearts and homes this Diwali.
Bollyspice.Com will be bringing you all of the latest from these premiere events in the coming weeks. Stay tuned!