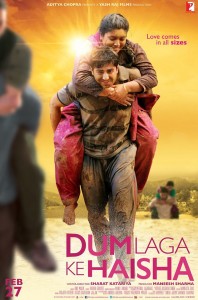 It is a puzzle why Bollywood is so enamoured with NRI and big city romances when small town India is so full of stories brimming with a myriad of flavours and quirks. Dum Laga Ke Haisha wins half the battle by just being set in Haridwar. And then packs the extra punch of nostalgia with its mid-90s setting. The cherry on top is a sweet story told with a lot of heart.
Prem (Ayushmann Khurrana) is a 10th fail loser staring at an uncertain future. His family forces him to marry Sandhya (Bhumi Phednekar), a well-educated girl with good job prospects so that the family's financial problems are taken care of. The problem is that Sandhya is fat and Prem can't get himself to like her.
If you have seen the trailers, you pretty much know all about the story and how it ends. But it is the charming way director Sharad Katariya tells his tale that makes the experience anything but predictable. The film is full of delightful little moments well woven together in an excellent screenplay. The characters are all endearing, especially Prem's family, and you can't help but like them. Their hilarious fights and daily frustrations make for some sparkling scenes, and you laugh at them even when feeling sorry for them.
This is a film where all aspects of filmmaking come together perfectly. Haridwar is shot with a lot of affection. The production design captures the 90s details perfectly – the audio and video cassettes, the scooter, the landline phone! The dialogues are a riot, steeped in small town charm. And the Kumar Sanu-esque music, especially the lovely 'Moh Moh Ke Dhaage', add to the cute chemistry between the leads. What's most admirable is the way this film makes so many points so subtly, be it about feminism, self esteem, husband-wife relationships, and even education.
The performances are all excellent. The inimitable Sanjay Mishra owns every scene he is in. Seema Pahwa, Sheeba Chadda and Alika Amin share great camaraderie. The supporting actors in bit roles are just as good and add to the authenticity of the small town setting. Ayushmann is in fine form after a long time and his loser next door act is first rate. However, towering over all of them is newcomer Bhumi Phednekar with an effortless performance. She doesn't play Sandhya, she becomes Sandhya. This has to be the most outstanding debut by an actress in a long time.
The only disappointing thing in Dum Laga Ke Haisha is its rushed ending. After Prem and Sandhya resolved their differences, we needed to see the blossoming of their relationship. The falling in love moment comes too abruptly and leaves one asking for more. However, it is easy to overlook such flaws when the film entertains so thoroughly. And this little gem doesn't just entertain, it warms the cockles of your heart.
Don't miss it!