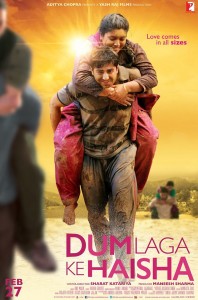 Dum Laga Ke Haisha is the latest offering from Yash Raj Films starring Ayushmann Khurrana (Vicky Donor) and debutante Bhumi Pednekar. It also marks Sharat Katariya (of Bheja Fry fame) changing gears from writer to director.
It film features music by Anu Malik (Main Hoon Na), composing after almost two years, his last being Shootout at Wadala. Lyrics have been penned by Varun Grover while vocal talents featured consist of Monali Thakur ('Sawar Loon' – Lootera), Papon ('Tu' – Bobby Jasoos) and Kumar Sanu (no introduction needed).
The album gets off to a stunner of a start with Moh Moh Ke Dhaage by Papon. The track is very reminiscent of Anu Malik's more nuanced work in Asoka and Refugee. The orchestration is beautiful as is the haunting melody. Couple with equally beautiful lyrics and a flawless rendition from Papon, the track is any easy winner. 'Moh Moh Ke Dhaage' is repeated at the end of the album, this time with Monali Thakur behind the mike. The track is a brilliant alternative to the former and while both tracks are equally good, both carry an individual charm that is very endearing.
The title track boasts of enthusiastic vocals from Kailash Kher ('Chaand Shifarish' – Fanaa) and the Nooran sisters ('Pataka Guddi' – Highway) but is ultimately a mess of fragmented pieces. The energy is infectious though and I can see it working well on screen.
Kumar Sanu's Tu cranks up the nostalgia for 90s' kids not just in terms of vocals but prose and style. On its own, it is quite a dated and ill-arranged track in face of the advances in music. However, it fits well with the kind of song the film protagonist, Prem – an avid Kumar Sanu fan, would adore. So while the song won't be climbing any charts Sanu fans can revel in a trip down memory lane.
Sunder Susheel is an aptly written number that will go well as a situational but has limited appeal otherwise. It has 'Genda Phool' and 'Daingad Daingad' folky vibe but not as impressive.
Dard Karaara is in the same line as 'Tu' with Sadhana Sargam along for the ride this time round. While the orchestration is slightly better than the former, the datedness hammers the tracks success track. That being said, if one longs for the good old days of the 90s, this track will definitely make it to the top of your playlist.
Prem Theme is a derivative of 'Moh Moh Ke Dhaage', featuring a similar minimal quasi-classical orchestration with Papon's vocals to boost.
Dum Laga Ke Haisha definitely packs some dum and nicely welcomes back Anu Malik. 'Moh Moh Ke Dhaage' affirms why Malik still has game but the other tracks, excluding for 'Tu' and 'Dard Karaara', are step backward. With 'Jaan-e-man' and 'Umrao Jaan' Malik showcased that he can age with grace and while we have not seen him recreate this same magic in his other works, there is still hope.