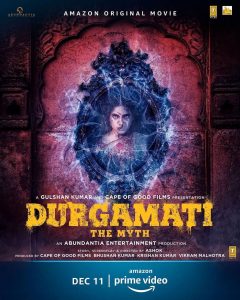 Durgamati The Myth (Amazon)
Starring Bhumi Pednekar, Arshad Warsi, Jisshu Sengupta, Mahie Gill
Directed by Ashok
While cinema the worldover has made gigantic leaps in theme and execution, we seem to be trapped in a time warp. Who makes this kind of Chandamama mythological anymore? Unless they think the audience is a sucker for mumbo-jumbo…. The original Tamil-Telugu bi-lingual Bhagmathie was a blockbuster. Maybe Anushka Shetty's bellowing bhoot act was a big turn-on to her fans, much in the same way that some men like to get whipped by their partner in bed.
You have to be really twisted to enjoy Bhumi Pednekar 's persecuted –bureaucrat-turns-into-a –flaming-fatale act. It is so funny it hurts, when it's meant to be intimidating. It's not the actress' fault really. It's the god-awful script made even more unbearable by the direction which plays every scene by numbers: 4 junior artistes on the two corners of the frames, Ms Bhootnath at the centre, rest of the cast trying to figure out where they are supposed to be.
The background music is so upbeat at times that I thought they put the wrong soundtrack.(Like interchanged babies in the hospital).
Hellishly stupid and imbecilic Durgamati will give you nightmares for days, and for all the wrong reasons. It will make you seriously worried for the future of Indian cinema specially the digital platform which has become a dumping ground for toxic waste. Durgamati not only propagates blind faith, it does so with the blind insensitivity of a child poking his sleeping mother with his finger.
The plot is so fatuous it will annoy you, anger being too strong an emotion to waste on this nonsensical homage to nullity. An IAS officer accused of murdering her boyfriend (Karan Kapadia, who happens to be one of the producer's nephew) is being interrogated in a haunted haveli by the brother( Jisshu Sengupta) of the murdered man (nepotism, you see is everywhere) and by a CBI officer (Mahie Gill) who speaks all her lines as if she just got her molars extracted. Although Gill plays a Bengali (and keeps mixing up her ling, just like everything else in the film) Jisshu Sengupta has a much more convincing Bengali accent. Could it because he is Bengali in real life?
I can't be sure of anything in this film. Is it even a film? Could Bhumi Pednekar, so effective in her last release, be so daft as to play a woman who is possess by the ghost of a dead woman? Andh-vishwas for superstitious women in backward villages. Who plays such roles any more? Who makes such films any more? Bhumi has spoken of this being the most physically challenging role of her career. I understand her pain. This was the mentally most challenging film of my career. It will take me weeks to recover. There are four hotshot producers backing this unpardonable faux pas, an apology of a film. Whom should I send my medical bills to?