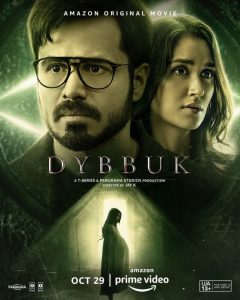 Dybbuk
Starring Emraan Hashmi,Nikita Dutta,Manav Kaul
Written & Directed Jay K
Dybbuk tries for some surface variation in the horror convention. It is set in the Jewish community in Mauritius. The scenic island looks good whenever the camera finds time to look, and the Jewish characters converse in Hebrew. And yes, the talented Manav Kaul who recently showed his skills from behind the camera in Tathagat, has an almost parallel role to the film's official leading man Emraan Hashmi.
Hashmi plays the deadpan husband to the pregnant Nikita Dutta. The unborn child, poor thing, is cursed by a diabolic force trapped in a Dybbuk box… Why not just throw the fancy box in the neighbour's backyard and get on with the show? This is really not a film we are supposed to make head or tail of. Exploring Jewish mythology with very little conviction (apart from the authentic language) the tail spins a wishy-washy web of ancient mythology mixed with a vapid mumbo jumbo that is as hard to believe as it is to digest.
The official remake of Ezra, the 2017 Malayalam hit, writer-director Jay K who designed the original infuses the remake with neither the eerie nor the ominous aspects that made Ezra such a shiver giver. Sadly for a horror film there is in Dybbuk not one genuine scary moment in the entire storytelling.
Tragic in its own right is the wastage of such acting talent as Denzel Smith and Imaad Shah. The latter appears very late in the narrative for a romance in a flashback that could have been fleshed out better.
On the plus side, Dybbuk has no songs barging into the terror time-zone. There is a no-nonsense air about the narrative inherited from the original Malayalam film. Sujith Vasudev's camera moves stealthily through the chilling air.
Fans of the horror genre are likely to be kicked by the climax where Manav Kaul and Emraan Hashmi play a confrontational game to the bitter end. Be warned : a mean spirit stalks the length and breath of this sedate thriller. As for the malicious spirit, nothing to worry about as long as the friendly neighbourhood exorcist is around.
Manav Kaul's Jewish priest act could have been the saving grace of this fusion of the mythology and occult. But this once, he seems to have lost the plot.