Families.
Families are messy, complicated, confusing – no matter which part of the world or what generation one is born into. Perhaps for many it's the family, that unit of supposed safety and belonging, which becomes the biggest catalyst for personal change and inevitably shakes up the boundaries of identity.
Ayub Khan Din's play East is East, currently performed at Trafalgar Studios in London, is a high intensity drama exploring the vulnerability and strength of family and finding oneself as an individual.
Explored in particular is the South Asian Diaspora.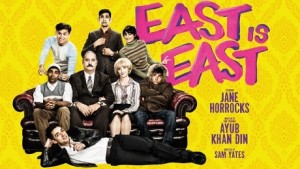 George Khan (Ayub Khan Din) is the father and the head of the house. He is a somewhat intimidating Muslim father obsessed with instilling Pakistani culture and roots into his half-English, half Muslim children.
We learn that George emigrated from India to the UK in 1936. He describes how he struggled, how he did not belong but eventually reached success. He now proudly owns his very own business, a fish n' chip shop run by the aid of his wife and children.
George provokes the complications of immigration. His character echoes the question of shame – is it shameful to leave your roots behind or rather, can you plant the same roots in different soil? Is it cowardly to hold onto a past way of life in surroundings that are now no longer, familiar?
The intense delivery of performance punched air into the intense messages conveyed. Running on high emotional voltage, the cast had to maintain the intensity of emotion. The emotion needed to be hung onto, like holding onto a kite blowing in the wind, and this was expertly done. Ayub Khan Din, Jane Horrocks, Nathan Clarke, Ashley Kumar and Michael Karim deserve a special mention.
Ayub Khan Din intimidates and terrorises as the controlling father, and yet his moments of fragility pull on the heart strings. Khan Din's performance was perhaps the most important in order to make the play work. A powerful performance with bouts of rage reveal George Khan's pain, his presence is over lording.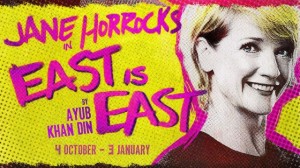 Jane Horrocks is the star of the show and the story. As wife and mother of the Khan clan, she stands in the middle carrying both her children and her husband with her warmness, sharpness and strength. Horrocks performance is genuine, holding an innate strength.
Nathan Clarke as art student Saleem shines and surprises as his character becomes pivotal. Ashley Kumar playing charming Tariq gauges the impulsive energy and suppressed anger of his character.
Michael Karim is fantastic. Karim steals the show. Playing youngest son Sajit, Karim delivers the damaged psyche of the young boy with no holds barred: an insight into his mental health and his honest questions un-dig the taboos the family are trying to face.
Every little detail of the production is true to 1970's Salford, from the Beano comic to the attire. It was the use of sense of humour that made the play uplifting and inspiring rather than depressing. The comedy and the tension balanced on a tight rope.
A moment of powerful symbolism was young Sajit holding up a dusty mirror at the start of the play. He looks into it and places the mirror on the wall. Emotively, the play ends with Sajit looking into the mirror once again. The mirror reflects identity, of being able to see yourself. Sajit definitely grows as a character and makes an astounding personal journey. Perhaps the concluding mirror symbolised Sajit seeing the same scene, being back at the same place, but now with different eyes.
Another haunting symbolism lay in the offspring standing at the sidelines watching the family's quarrel's unfold again and again. They are invisible but not invisible. As they stand lurking in the shadows, a loss of identity and an evolution of identity take place.
This also portrays the interconnectedness of family, of how each member impacts the other.
George controls and bullies his family into being how he wants them to be. His 6 children (7 in total, the eldest disowned) are traumatised by him within different degrees. His presence was uncomfortable and the audience could feel the fear he induces upon his family.
One would think that it is easy and simple to detest George Khan. He domestically abuses his doting English wife and is not shy to lift a hand on his kids when challenged for their human right to choose life as they want. However, George is a terrified man – in fact, the most terrified of them all perhaps. It is clear to see that it is George who has lost his roots, his sense of belonging and his sense of identity.
Son Salim vehemently defends: I am not Pakistani.
George tries to justify his tyrant control: I try to show you a good way to live.
George is a lost man trying to retain a sense of belonging through his children. His children are his measure of success and failure. In fact, he is broken and when George allows himself to be broken, he slowly reveals his sensitivity.
When son Abdul breaks down crying on the sofa, George watching helplessly, I asked myself: is George blaming himself for this? Or is he realising the truth that all parents avoid but nonetheless must confront: you can't protect your children from what they must face. Perhaps in this moment he also faced that he cannot own his children.
Linking in with George's desire for control was the political aftermath of the Partition of India, 1947. Echoed powerfully through the play was the (continuing) insecure and troublesome status of Azad Kashmir – the land officially belonging to Pakistan and a vital subject of the India/Pakistan conflict.
Interesting to note is that the word Azad actually means free. And yet, Azad Kashmir has had to face conflict as a consequence of being owned and controlled, very much like George Khan's offspring. The theme of the war breaking out over Azad Kashmir symbolises not only the turbulent lives of the siblings, but their suppression.
The 6 siblings fight and pick on one another, but they face their frightening father together – for each other, for the family. Regardless of the 6 siblings being in the same situation, they did not see the situation in the same way. Is there ever a single straightforward solution or answer?
East is East represents the perplexity of family, the fear one must face in order to live a life one wants. True perplexity brings insecurity and challenge, however it also brings the chance to grow and change what is hindering and unhealthy.
Whatever your challenge in life and whatever the relationship with your family, East is East is a must see and a production that will provoke you to explore identity and if there is such a thing as complete belonging.
The cast comprises of Ayub Khan Din (George Khan), Jane Horricks (Ella Khan), Taj Atwal (Meena), Nathan Clarke (Saleem), Michael Karim (Sajit), Ashley Kumar (Tariq), Darren Kuppan (Maneer), Amit Shah (Abdul), Sally Bankes (Auntie Annie), Rani Moorthy (Mrs Shah) and Hassani Shapi (Doctor/Mr Shah).
Watch the intriguing trailer in the video blow and catch the show at Trafalgar Studios: http://trafalgartransformed.com/whats-on/east-is-east