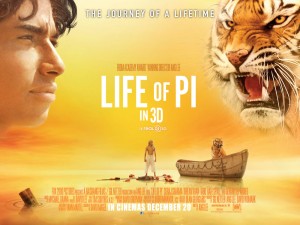 It was a coming together of directorial greats when Bollywood's leading film director Karan Johar and South India's finest Kamal Haasan interviewed Oscar-winning filmmaker Ang Lee (Brokeback Mountain) when the Taiwanese-American director came to promote his new film Twentieth Century Fox's Life Of Pi in India recently.
The candid interview saw Ang Lee talk about his new film Life Of Pi, which has been adapted from Yann Martel's much-loved book, and also about his growing appreciation for Indian cinema. With a limited grasp of the world-wide phenomena that is Bollywood, Ang Lee admitted before the interview to not knowing who Karan Johar is. "Irrfan and Tabu are my two connects to Bollywood actors, but I read a bit about Karan and he sounded interesting to me", said Ang.
As the two heavyweights of celluloid began their tete-a-tete, there emerged an in-depth and engaging conversation between the two. Karan Johar asked Ang about his forthcoming labour of love, Life Of Pi, to which Ang responded: "I invested four years for Life of Pi. It is a very thought-provoking book. It examines illusions and that's what filmmakers do, we tell stories through illusions. Reading a book is easier, but a movie is realistic with images — what you see is what it is. It's like solving some enigma, the characters of the tiger and Pi are very, very cinematic. It's all about believing and also about the power of storytelling. When we create meaning out of our experiences and give it a structure, we have to pass the story around orally. So, all that is inspiring."
Ang Lee also shared his experience of working with talented Indian actors Tabu and Irrfan Khan, "They have so much respect from me. They are not the ones who said 'yes' to everything I said. They always made sure that what they were asked to do was okay. So I told them that it's India, so you have to let me know. They are established actors."
Meanwhile, across the country in Chennai, Kamal Haasan met with Ang for a 30-minute television interview about the film. Kamal and Ang hit it off immediately, with Kamal taking Ang to his home so that Ang could familiarise himself with Kamal's latest directorial project Vishwaroop. Speaking about the meeting, Kamal said: "I took him to my office where he saw my new film Vishwaroop. I think he liked what he saw. It was very kind of him to make time for something beyond his jam-packed schedule only so that he could be familiar with my work. He had worked in South India in Pondicherry for Life Of Pi. He had heard of me but not seen my work."
Kamal Continued: "I have never done a film in 3D. I'd like to. What I've seen Ang achieve in Life Of Pi through the 3D technique is unique."
Life Of Pi will open in the UK and Ireland on December 20 in 3D & 2D, distributed by Twentieth Century Fox.