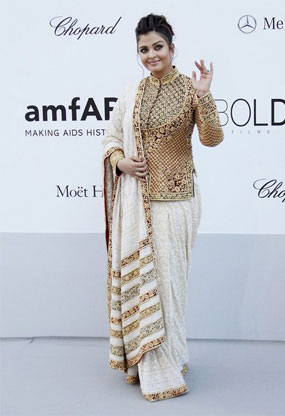 In an age of quick-fixes and svelte (and some say forced) perfection, Aishwarya Rai Bachchan has rebelled. She's certainly not worse for wear for it either. Aishwarya's relationship with the Indian media has always been contentious, to say the least. If it isn't a criticism about her skills as an actress, the media is unhappy with the way she dresses or how she looks 'plastic'. There are reams and reams dedicated to her, and without her even trying.
In what the Indian media considers her latest faux-pas, a global stance has been taken on her behalf. International media outlets are reporting with such fervour that I think the weight issue will never be put to bed. The much-awaited birth of Aaradhya Bachchan was followed by an almost obsessive concern about Aishwarya's pregnancy weight. It outdid the running commentary on her weight in 2005.
It is curious that in a nation mired by poverty, corruption and suffering that Aishwarya's weight warrants such interest. It is disappointing that a culture that devotes itself to the Lakshmi Devi and places the utmost importance on mothers and motherhood would be so callous towards it own child, who now embarks upon her own revered adventure.
However, as they say, "If God taketh, then he giveth". Indian dailies have had their say and now the foreign press is having theirs. Aishwarya's post-pregnancy weight has made headlines on E!Online, Daily Mail and ABC News, all of whom appear to be critical of the Indian media's recent behaviour. The Daily Mail stated that "Commentators have been unkind, lambasting the star for letting her fans down" and commented on the very divisive nature of her choice as along with public criticism, she has also received public support, with some calling her a 'Goddess'.
Since other people have already weighed in (excuse the pun!), I want to throw in my penny's worth: it's her body and she has to do what is right for her and her baby, nothing else and no one else matters – we the public or the press should have no say on the matter. As for how the superficial, she still looks beautiful and perhaps more so, now that she is a mother because mothers always look perfect. Plus, mothers should have weight – no child wants to hug a corpse or fall asleep on skin and bones.
NB. She looked incredible in the Elie Saab and no one would have looked good in that Abu-Sandeep (they outfit didn't know which gender to be inclined towards; there's a lesson here – Indian clothes can never be androgynous).