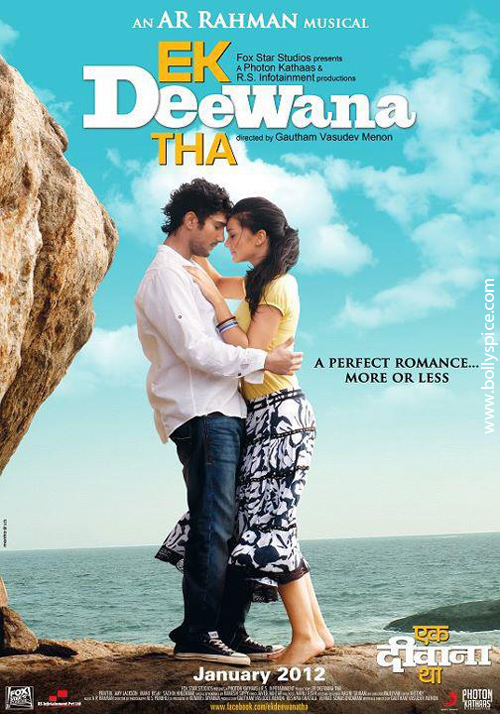 Gautam Menon's bilingual (Tamil/Telugu) masterpiece Vinnaithaandi Varuvaayaa (VTV) and Yeh Maaya Chesave (YMC) is finally being re-made in Hindi as Ekk Deewana Tha with Prateik Babbar and Amy Jackson as the leads. The music of VTV/YMC, composed by A R Rahman, was given as epic a status if not more than the movie. So it was not a surprise when it was heard that Rahman would be re-making the same songs in Hindi with lyrics penned by none other than Javed Akhtar.
EDT has 12 tracks and features the vocal talents of Clinton Cerejo ('Kya Karoon' – Wake Up Sid), Shreya Ghosa ('Chikni Chameli' – Agneepath), Javed Ali ('Guzarish' – Ghajini), Naresh Iyer ('Robaroo' – Rang De Basanti) and Rahman himself amongst others.
Ekk Deewana Tha hits cinemas 17 Febuary 2012.
Kya Hai Mohabbat is the only track in the album that cannot be found in the soundtrack of VTV/YMC, so naturally its first on the list. Rahman himself is behind the mic for this number and surprisingly he sounds strictly ok, if nothing else. Similarly, Javed Akhtar's lyrics are just ok. Rahman's recent solo numbers like 'Jaane Tu', 'Rehna Tu' and 'Meherbaan' have been quite delightful so for him to give such a bland solo track is rather unusual.
Dost Hai Hum To, (Kannukkul Kannai/Aakasam) somehow lost the plot in translation. The original is a beautiful angst-ridden track with emotive music to match. While Naresh Iyer is still behind the mic for the Hindi remake, ARR has gone and violated his own song with ill-sounding rap and an assortment of equally ill-sounding sound effects à la M.I.A's Paper Planes (Slumdog Millionaire) albeit not so aesthetically. The saving grace are the violin sequences which, thankfully, have been retained. Poor Naresh simply repeats 'Dost hai hum to yeh bahana kyon, pyaar hai humko yeh chupna hai' but does so with the emotion Sachin's character is feeling at that point in time. Other than that it's a complete train wreck.
Thankfully Aaromale sounds more or less the same in Hindi and Alphonse Joseph does a good job singing the track in Hindi, clearly not his first language. Aaromale is not a track that one will like at first instance. Firstly, it is rather edgy in composition and secondly because it's a situational number. Either way it tends to grow on you with its beautiful violins and guitars. Akhtar's lyrics are in form this time round and in doing so, Aaromale is successfully transferred to the Hindi audience.
Hosana was available for official download in many a music sites well before the full album and the verdict was generally positive. The track is as beautiful as it is fun and cute. Leon D'Souza does a brilliant job of not letting one miss Vijay Prakash too much who sang the Tamil and Telugu versions. Suzanne D'Mello reprises the position behind the mic to deliver the heavenly crooning of 'Hosana' throughout the number while Blaaze who delivered the English lyrics in the Tamil and Telugu Hosanas is MIA. While Leon does a decent enough job of singing the English lines one has to hear Blaaze's rendition to appreciate why he should have been doing so instead. Akhtar's lyrics capture Sachin's fascination with Jassi perfectly, especially the line, 'dil hote jo mere seene me do, doorsa dil main tumhe todne ko'. Therefore the Hindi version of Hosana gets a definite thumbs up.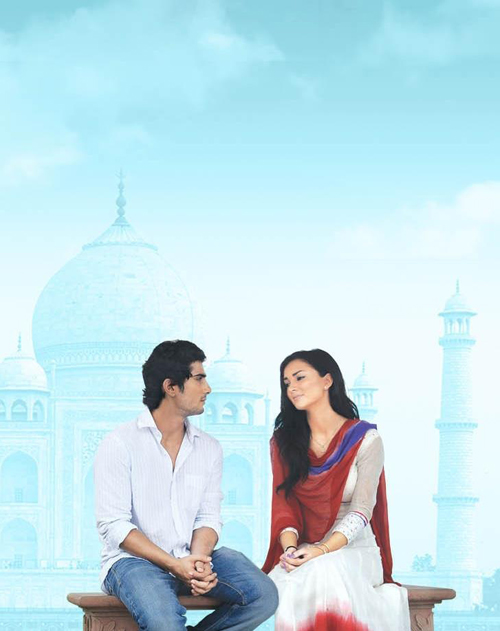 Phoolon Jaisi gets everything right, except for one and sadly enough the one thing it lacks makes the whole song crumble to pieces. Firstly, the music, contemporary with a hit of traditional South Indian arrangements, was perfect to begin with. Secondly, Benny Dayal was replaced with Clinton Cerejo, unnecessary yet not troublesome. Finally, Kalyani Menon rendering the beautiful Malayalam interlude was retained, great idea. The track's downfall, surprisingly enough, is Javed Akhtar's lyrics! Songs about the woman of one's dreams is an everyday affair when it comes to Bollywood but Akhtar lacks the sophistication he possessed when he wrote songs like 'Kathai Aankhon Wali' (Duplicate), 'Sheeshe Si Banni Ek Ladki' (Dastak) and the legendary 'Ek Ladki Ko Dekha' (1942 A Love Story). If one can disregard the lyrics, it is a great track.
Sharminda Hoon is featured during a major turning point in the film and thus it demands a higher lyrical quality. Unlike Phoonlon Jaisi Akhtar has done a half decent job translating Mannipaya/Vintunnavaa but he has made some literal translations that were not necessary. That is, for a writer of his calibre (current doubts aside) one would expect him writing new metaphors and similes to convey the same emotions. Further, the lyrics have been forced into a song that does not cater for the lyrics' length. The breakdown of syllables is appalling and gives the whole song a very awkward feel. It is a real shame because the music is fantastic and the vocalists, Rahman and Madhushree more than capable.
Sunlo Zara on the other hand has made a decent transition into Hindi. Rashid Ali and Shreya have replaced Chinmayi and Devan this time, Akhtar's lyrics are effective if not award-winning while the feel-good music makes Sunlo Zara an all round good listen.
Javed Ali's Zohra-Jabeen is a raw and earthy number, in the same line as Aaromale. However, this time round the emotions are more subdued and soft as opposed to the angst/frustration in the Aaromale. Javed's effortless rendition amidst the acoustic guitars makes Zohra-Jabeen a fine number.
The album closes with various instrumentals that were featured in the VTV/YMC but were missing for the soundtracks. Jessie's Land is a beautiful thematic piece vocalised by Megha that reinforces the angelic beauty Sachin sees in Jessie. This is followed by the aptly titled Jessie's Driving Me Crazy that is rendered well by Sanjeev Thomas and Timmy who showcase Sachin's mad love for Jessie brilliantly. Broken Promises is an instrumental derivative of Aaromale beautifully vocalised by Shreya Ghosal while the soothing violins in Moments in Kerala is a delightful easy listen.
In summary, members of the Hindi audiences who have already heard either YMC or VTV will be disappointed with EDT more often than not, while those that haven't may be able to appreciate the soundtrack on its own. However, its hard to see how the miss-match of music and lyrics in Sharmida Hoon, the tacky rap in Dost Hai Hum To and the inarticulate lyrics in Phoolon Jaisi Hosana, would not be apparent to the objective listener. In any event, Hosana, Sunlo Zara and Phoolon Jaisi (if you can manage to drown the lyrics out) are the definite winners. Zohra Jabeen and Aaromale may cater to those with a keen sense of music if not the masses, Sharminda Hoon and Dost Hai Hum To are epic failures while Kya Mohabbat Hai is as mediocre as it gets. In short, one is better off listening to the Tamil and Telugu versions.