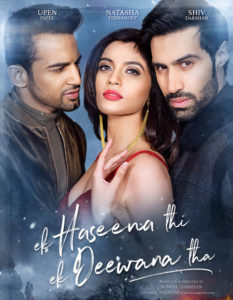 Ek Haseena Thi Ek Deewana Tha
Starring Shiv Darshan,Natasha Fernandez, Upen Patel
Directed by Suneel Darshan
This is a film for the diehard romantics who still believe love lasts for many lifetimes. Quite the other end of the spectrum from Imtiaz Ali's Jab Harry Met Sejal where Ms Sharma is heard discussing the legal ramifications of random "intercourse" with Shah Rukh Khan.
Suneel Darshan's chaste love birds played by his son Shiv and newcomer Natasha Fernandez, are strictly old-school. Shiv shows some growth as an actor. He plays Deodhar, a mysterious figure who moves around as a spirit in the picturesque locales of England, who wooes the pretty girl Natasha with Nadeem's song which spill put in atorrent of effusion.
It's good to see a Bollywood film paying heed to the tradition of protagonists singing songs on screen. There is plenty of lip-sync singing in this film. Remarkably the director uses the same playback singers for the girl and boy throughout, thereby extracting a homogeneity from the romance. The lead pair knows its moves through the ornate lyrics.
Amarjeet Singh's cinematography captures the mountain peaks and coniferous splendor with captivating single-mindednesss, often focusing more on the picture-postcard idyllic backdrop than the characters. And that is fine. The film is shot in enormously scenic locations of England where the hills, lakes and castles provide an imposing backdrop to the drama that unfolds at the forefront.
The dialogues with which Shiv courts his ladylove are done in high-flown Urdu which create a rather telling contrast with the English locations.
Suneel Darshan who in the past—long ago—gave us successes like Jaanwar and Ek Rishta, spins a fatally old fashioned love triangle . While Deodhar(Shiv Darshan) and Natasha(Fernandez) share intimate moments in barns and on galloping horses sharing 32 smooches(I stopped counting after 30) , Upen Patel goes around trying to be the good Other Man who doesn't mind if his fiancée sneaks off for a tryst with tall, dark-tempered stranger with a man she has just met.
Something doesn't feel right about Patel's presence. And we soon unravel the mystery of Patel's nebulous presence. His voice is dubbed by filmmaker Vikram Bhatt who has in the past dubbed for the leading man in several films that he has directed. What's he doing dubbing for an 'actor' who has been around for decade and should be speaking his own lines?
There are deeper mysteries to solve in this mystery-romance. Who is trying to kill the heroine, a modern day princess who floats around in a semi-stuporous haze in search of that elusive thing we call love.
You are most welcome to join her.