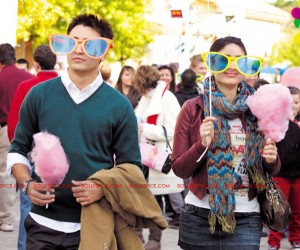 One of the films we have on our must watch out for list is Ek Main Aur Ekk Tu. Starring Imran Khan and Kareena Kapoor, the movie is directed by Shakun Batra and scheduled to release on the 10th February 2012. For the first time ever, the Imran & Kareena jodi is coming on-screen and the excitement can already be felt in the air. The first look of Imran Khan and Kareena Kapoor from the movie was released a few months ago and it received an excellent worldwide response.
Are you ready? Because we are going to be getting a special exclusive Ek Main Aur Ekk Tu treat tonight! Since early this morning Dharma Production's Ek Main Aur Ekk Tu has been a topic of conversation online. Apparently, the official EMAET Twitter handle spoke about something fun and cool they are going to release today.
We hear that this is too good and that nothing like this has ever been done before to promote a movie in Bollywood. And who will we see? Apparently Imran is going to be the face of this promotion.
Let's wait and watch to see what the promo of Ek Main Aur Ekk Tu has in store.
Of course, watch this space because we will bring you the exclusive as soon as we get our hands on it!