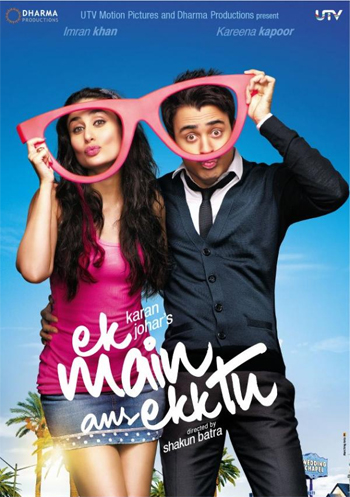 A Karan Johar Production, a Valentine season release, a name like Ek Main Aur Ekk Tu (EMAET), and the beautiful pair of Kareena Kapoor & Imran Khan – one walks into the film expecting nothing less than a mushy romance. However, first time director Shakun Batra's film is anything but mushy.
Rahul (Imran), a sweet but uptight guy, and Riana (Kareena), a warm and carefree girl, meet over a few drinks. The few drinks end up being many and they wake up the next morning to discover that in the drunken revelry of the night before, they ended up getting married. As they start the proceedings to get their marriage annulled, these two very different people from very different worlds strike up an unlikely friendship.
Contrary to the general perception, EMAET is not a copy of What Happens in Vegas, nor is it romance or a rom-com. EMAET is a buddy movie and it would have had made no difference if instead of a boy and girl, it had been about two boys or two girls. Yes, it is more of a slice of life film that rests more on friendly banter between the leads than any kind of romantic chemistry.
Batra's direction is all about being subtle and cool. This first time director seems to have an aversion to any kind of drama or strong feelings. This is both good and bad. The good is that the narration style is new and different. The bad is that one never really feels the pain or happiness of the protagonists. We watch them from afar and never really get emotionally involved with them. Another problem I had with the film was that despite its attempt to break away from the Bollywood clichés, it couldn't help its characters being caricatures. Rahul's parents and family friends from South Bombay are the most insensitive, class-conscious people ever. Riana's middle class Christian family is the epitome of cool (her father asks her casually if she has had sex with Rahul yet).
All this wouldn't have been a problem if the film was entertaining. Unfortunately, the pace is very slow and long portions of the film are quite boring – which is a problem when its duration is only 1 hour 50 minutes. The light humour only manages to bring a smile to one's face now and then. The songs are hummable and well woven into the narration but don't leave much of an impact. The movie is so busy being cool that Rahul and Riana's relationship never develops the heart-warming quality of true friendship. The only time EMAET came alive for me was during the last 15 minutes when Rahul lashes out at his parents and then the unconventional end which finally lifts the film out of its stupor.
The performances are mostly good. Imran delivers the best performance of his career. Kareena could have played Riana as an extension of Geet from Jab We Met, but it is to her credit that her act is more restrained and mature. The supporting cast of Ratna Pathak Shah, Boman Irani, Ram Kapoor and others is adequate if not outstanding.
EMAET could have been a much better film than it is. Shakun Batra is a promising talent but he needs to work on his storytelling skills. I would still give him credit for daring to be different and hope that his next is more entertaining than this one.