The forthcoming Imran Khan (I Hate Luv Storys) and Kareena Kapoor (Ra.One) starrer Ek Main Aur Ekk Tu has Amit Trivdei as its composer and Amitabh Bhattacharya as lyricist. The recent unveiling of the theatrical trailer points to a predictable new age romantic comedy trying hard to disguise itself as an off-beat/indie love story. In any event recent romantic comedies, that is, I Hate Luv Storys, Aisha, Break Ke Baad, Love Breakups Zindagi and the like had good music to fill its predictable gaps. Here's hoping the Trivedi-Bhattacharya team does the same.
The soundtrack contains 7 tracks, 2 of which are remixes and features the vocal talents of Shekhar Ravjiani ('Raftarein' – Ra.One), Vishal Dadlani ('Zara Dil Ko Thaam Lo' – Don 2), Shilpa Rao ('Khuda Jaane' – Bachna Ae Haseeno), Karthik ('Behne De' – Raavan), Anushka Manchanda ('Mit Jaaye Gham' – Dum Maaro Dum), Benny Daya ('Aadat Se Majboor' – Ladies V/s Ricky Bahl), Ash King ('Te Amo' – Dum Maaro Dum) and Trivedi himself.
The soundtrack beings with the Title track, promos of which are at large by now. On the outset it's a catchy and foot-tapping number, destined for popularity. Anushka and Benny carry the track on their shoulders effectively without much effort while Shefali Alvares ('Tu Mera Hero' – Desi Boyz) provides some decent additional vocals for completion. The sonic vocals are a nice touch. Bhattacharya's lyrics are surprisingly unremarkable, especially the chorus, "Ek main hoon aur ek tu. I wanna be with you. Tere peeche peeche main. Mere aage aage tu." It is rather kid-ish and not at par with his recent more articulate work. Moreover, while the new-age-ness of a montage of drunken escapades has its appeal, arguably it's a tad bit overrated with the recent overflow of "tali" songs in F.A.L.T.U, Rang De Basanti, Ugly Aur Pagli and the like. Remix by DJ Shiva is a lot more upbeat and may even be appropriate for the club scenes. The sonic vocals, which were a nice touch in the original, have been overdone here thought causing the singers vocals have become unrecognizable at times. In any case, both tracks are equally good.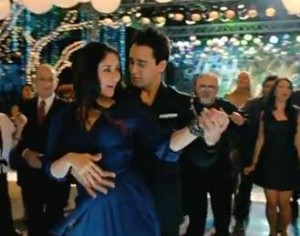 Gubbare is up next and is in the same line as 'Shaam' from Aisha. Sung well by Trivedi, Shilpa Rao and Nikhil D'Souza, its acoustic and earthy nature is its appeal, if not as catchy and endearing as 'Shaam' Whether metaphorical or literal Bhattacharya's lyrics are fun and cute while also being that little bit philosophical.
Aunty Ji gets the party started, old school style. It's got a slight 'Senorita' (Zindagi Na Milengi Dobara) feel to it and Ash King who up until now serenaded us with love songs owns this wonderfully weird party track. Bhattacharya's flirty/funny lyrics are an absolute delight and will guarantee some very flushed cheeks if tried on any aunties. Ash is an incorrigible flirt and does Bhattacharya's lyrics justice. Combine it with some just-enough-corny-to-be-cool dance music and you have one fun number.
After the party, the soundtrack takes a sombre turn with Aahatein. Vocalised by Karthik and Shilpa, this typical romantic comedy pre-climax track is amazingly sung by the duo. Their renditions are as beautiful as they are morose. The minimal music and vocal potency of the track make it all the more appealing and showcases Bhattacharya's well-penned lyrics effectively. Aahatein's remix by Abhijeet Vagnani aesthetically takes the tempo up a few notches while Shekhar Ravjiani replaces Karthik. It is vastly upbeat than the first but somehow it does not take away from the melancholic nature of Bhattacharya's lyrics. Both versions are good in their own way.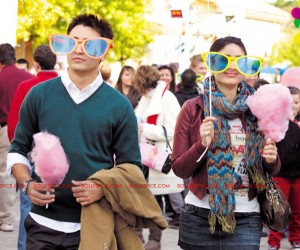 The soundtrack ends with Kar Chalna Shuru Tu, a well-penned equivalent of a pep talk come alternative title track. While Shilpa Rao does a decent job of singing it, Vishal Dadlani, arguably, is not in full form. The track is similar to his 'Aadat Hai Who' (Patiala House) in some ways, which he sang beautifully but this time he sounds a tad bit off track. Morever, the music is not as appealing as its predecessors and brings the album to a sore close.
In summary, given that Amit Trivedi is composing and Ek Main Aur Ekk Tu clearly belonging to the romantic comedy genre, one can easily expect an Aisha from this soundtrack. If you are, then you will be quite disappointed. While Ek Main Aur Ekk Tu is entirely listenable, it is below the standard of work we have witnessed Trivedi deliver in Aisha, Dev D and No One Killed Jessica. That being said, the musical verdict for his last gig, Chillar Party, should have been an indication of a downward spiral in any event. Ek Main Aur Ekk Tu is vast improvement from Chillar Party but nowhere near the genius witnessed in Trivedi's aforementioned former works. Strictly speaking, 'Aunty Ji' and the title track (inclusive of remix) will most likely be the popular ones while 'Aahatein'' (inclusive of remix) is a close runner-up. 'Gubbare' and 'Kar Chalna Shuru' suffer from sounding like derivatives of each other even though they are decently written. Moreover, the unremarkable renditions all work against their favour.
In short, listenable yet unremarkable.