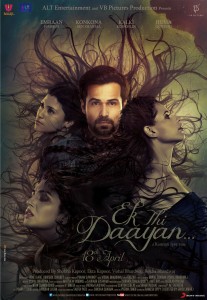 Ek Thi Daayan is an upcoming horror film which has been directed by Kannan Iyer. It stars Emraan Hashmi, Konkona Sen Sharma, Huma Qureshi and Kalki Koechlin in the leading roles and is all set to release in cinemas on 18th April. The film is based on a magician named Bobo who encounters a beautiful woman called Lisa. Despite him being in a relationship, Bobo finds Lisa incredibly attractive. However, he is soon convinced that Lisa is actually a 'daayan' (witch) who is out to get him. The music to this film has been composed by Vishal Bhardwaj, who also composed the music for his previous directorial venture Matru Ki Bijlee Ka Mandola (2013). The lyrics have been written by the legendary Gulzar, who has teamed up with Bhardwaj many times to create great music. So does the soundtrack to Ek Thi Daayan deliver, given that these two maestros have joined forces? Read onto find out!
The first track is Yaaram, which is sung by Sunidhi Chauhan and Clinton Cerejo. I love the music to this song which has a strong modern flavour to it. The vocals are nicely done by the singers and matches well with the feel of the song. Overall, the song is a winner and will surely be loved by many.
The next song is Tote Ud Gaga, which is sung by Suresh Wadkar, Sukhwinder Singh and Rekha Bhardwaj. This is an edgy and up-tempo song, which includes the use of both rock and 'desi' music samples. All three singers perform it extraordinarily well and they really sing their heart out in this one. It is definitely a song which you should check out as you may end up being highly addicted to it. Kudos to Vishal Bhardwaj on this one!
Next up is Kaali Kaali, which is performed by Clinton Cerejo. I'm in two minds with this song. The composition is nice and smooth to listen to; yet it does not have that wow factor about it that will grab your attention. The vocals are average and could have been stronger in my opinion. Thus, it is a weak song that could have been so much more.
Following this, we have Lautungi Mein, which is sung by Rekha Bhardwaj. The vocals were very well performed by Rekha, yet the composition just did not appeal to me. It sounds a little too melancholic which makes the song lose some of its flavour. However, if you are keen to check it out, then do so for Rekha's wonderful vocals.
Next we have Sapna Re Sapna, which is performed by Padmanabh Gaikwad. I found this song to be the weakest in the album. It contains lacklustre samples of the piano and the flute which makes it difficult for one to appreciate it. The vocals were also uninspiring and Padmanabh Gaikwad does not perform her best in this one. Hence, give it a miss since you will end up daydreaming whist listening to it rather than actually enjoying it.
In conclusion, Ek Thi Daayan is not an amazing album, yet it isn't bad either. The two songs that will appeal to many Bollywood lovers are 'Yaaram' and 'Tote Ud Gaga,' which are great fun to listen to. The rest of the songs just do not have any catch to them and hence, you will find it difficult to fall in love with them. Despite having created genius music in the past, this is not Vishal Bhardwaj and Gulzar's best work. Unfortunately, it does not quite meet your expectations.