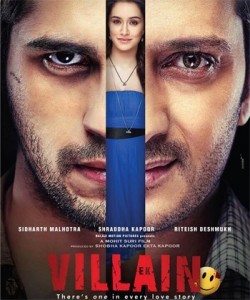 Ek Villain is a tale of love and loss. Umm…… no! It is a thriller about a murderous psycopath. No, strike that. It is a revenge drama with loads of action thrown in. Confused? So it seems were director Mohit Suri and his team of writers. They created some interesting characters but then couldn't figure out what to do with them.
A cold blooded murderer Guru (Sidharth Malhotra) falls in love with Aisha (Shraddha Kapoor) and decides to change his ways. Their lovingly created paradise is shattered when Aisha is brutally murdered for no apparent reason (this is not a spoiler). The murderer could be a timid middle-class man Rakesh (Riteish Deshmukh) who may also just be your friendly neighbourhood psychopath.
Aisha is murdered a few minutes into the film. The curiosity is aroused. And then the film goes into a cutesy flashback of how the lovers met and fell in love. Because Shraddha and her dialogue delivery are so irritating, and because Sidharth tries a bit too hard to be a brooding goon, it is a welcome change when the story comes back to present and we meet Rakesh and his wife Sulo (Aamna Sharif). The film peaks when Rakesh's truth is unveiled and then…… nothing! We go into another flashback. And another. In between, some bones are broken, some glasses are shattered, lots of blood is shed, and finally the film limps towards a bloody finale.
The good thing is that the back and forth narrative isn't confusing. The bad thing is that it is totally unnecessary. This is a film that could have effectively ended at intermission but it keeps stretching itself just for the heck of it. Aisha's character, which is supposed to be the emotional anchor of the film, is badly written and weakly performed and hence, Suri's repeated attempts to tug at the audience' heartstrings end up looking plastic. When the love story doesn't work, the songs don't work either. A pity since they are quite hummable.
What gives the film its gravitas is Riteish's brilliant turn as a henpecked husband who could just be a murderous madman too. His eyes remain dead and yet they speak volumes. Sidharth is more comfortable showing vulnerability than he is showing menace. However, this is a very good performance for a relative newcomer. Aamna Sharif looks beautiful and gives a nuanced performance despite having a one-note role. Kamaal R Khan plays a slimy womaniser with visible relish.
There is only so much good actors can do when the screenplay is all over the place. Riteish Deshmukh's performance deserved a better film. Hope he gets it soon. It would be appalling to see him go back to films like Grand Masti and Humshakals after this.