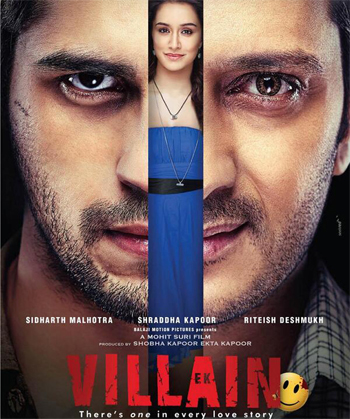 Following the huge success of his last film Aashiqui 2, director Mohit Suri is back with the romantic action thriller Ek Villain. Starring Sidharth Malhotra, Shraddha Kapoor and Riteish Deshmukh in pivotal roles, it is scheduled for release on June 27, 2014 and promises to be an adrenaline pumping film, with lots of glossy romance included. The music has been composed by Mithoon, with Ankit Tiwari being guest composer for the songs 'Galliyan' and 'Galliyan Unplugged.' Both Mithoon and Ankit are famous for having produced songs for Aashiqui 2 and is the reason why there has been a lot of excitement surround the music to this one. The band Soch also appear as guest composers for the song 'Awari.' So is Ek Villain the soundtrack to include in your music collection? Read on to discover our verdict!
To kick start the album, we have Galliyan sung and produced by Ankit Tiwari. I very much like how the song transforms from being slow-paced, to quickly accelerating into heavy rock music and then settling into soothing traditional Indian-themed sounds. In addition, Ankit sings very well throughout; making 'Galliyan' on par with his last super-hit song 'Sun Raha Hai' from Aashiqui 2. I consider this to be one of the best songs that has been released so far this year and credit goes to Ankit for putting in a great deal of thought into it. Do check it out as you would be a fool to miss out!
Next we have Banjaara which has been performed by Mohammed Irfan. There is a sense of innocence to this song and there are also some nice sounds you should look out for. Instruments such as the harmonium and the piano have been put to very good use. However, I found the major highlights of this particular track to be the wonderfully written lyrics by Mithoon, as well as Mohammed's vocals, who has given it his all. He gets the notes just right and his voice complements well with the mellow-themed composition. I think all the boys who are in love will be particularly struck with this song and it is arguably one of the most romantic tracks I've heard in a very long time!
Following this we have Zaroorat sung by Mustafa Zahid. I really love this one and it's probably my favourite track in the album. From the lyrics, to the nicely composed music and Mustafa's voice; there are no major flaws with this song and it stays with you after having listened to it. The only minor problem which some listeners may have with it is the length of the track which is just over six minutes long. Yet having said this, I don't think it will matter to those who can't get enough of it. Do check out 'Zaroorat' as you will be instantly hooked to the song's intensity and heavily romantic lyrics!
Next up is Awari which has been performed by Adnan Dhool and Momina Mustehsan. I like how the song opens with the piano having been nicely played. The vocals have also been delivered well; though I found Momina's voice to stand out slightly more than Adnan's. Though it's not as strong as the previous three tracks, I still consider it to be a respectably composed track and it appears to have been produced with thought and meaning to it. Do check it out and see whether or not you agree with me.
Humdard is next and has been sung by the evergreen Arijit Singh. I was left hugely impressed with this one and Arijit sings his heart out which will leave a permanent mark on you. This song proves that the award-winning singer is getting better and better by the day and he can sing in a range of notes too. Moreover, I found the music to match well with Arijit's voice, as well as the lyrics. There is some nice strumming of the guitar, as well as some cool backing vocals, which works well with the tone of the song. I highly recommend you give it a listen as it will most certainly have an impact on you!
Finally we have Galliyan Unplugged which has been performed by the beautiful heroine of the film Shraddha Kapoor and Ankit Tiwari also. Shraddha proves that she is not just an actress, but a fantastic singer too. Her in-tune voice gives a nice soothing feel in general and the excellent use of the guitar makes it hard to erase the song from your mind. Ankit also joins in towards the end of the song and he performs nicely too in the acoustic version of this particular number. I think 'Galliyan' is undoubtedly the signature song of Ek Villain and hence, both the original and unplugged versions are astounding and immaculately composed.
Before putting this review to a close, I must say that the soundtrack to Ek Villain is by far the best album to release so far this year and I was left completely mesmerized. All the songs are striking and wonderful to listen and hence; it's incredibly difficult for me to find major faults with an album that is of such a high quality. It's uncommon for a Bollywood soundtrack to have such a major effect on you nowadays but Ek Villain is a rare gem that will touch your heart and stay with you for a long time. I recommend that you listen to the album from beginning to end as it's full of romanticism and escapism and will undoubtedly become a classic over time. Therefore, to describe the soundtrack to Ek Villain in two words, I would say it's 'A MASTERPIECE!'