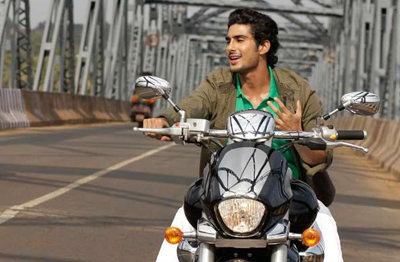 For the Hindi remake of his hit Tamil film Vinnaithaandi Varuvaayaa, titled Ekk Deewana Tha, director Gautham Menon said he wanted fresh young faces to play the lead romantic roles and he could think of no one better to play Saachin than Prateik. For his part, Prateik says that when he saw the Tamil original he absolutely loved the story and was excited to take on the role and make it his own. Ekk Deewana Tha, is a musical romance and from what we hear much of the story was formed around the songs. Those songs were composed by none other than the master of music AR Rahman with lyrics by the esteemed Javed Akhtar. According to the tagline: "It is a perfect romance…more or less." Ekk Deewana Tha follows the story of Prateik's Saachin, who falls in love with Amy Jackson's Jessie but as in all filmi romances there are obstacles. Do they end up happily ever after? Well, you have to watch the film, which is in theaters now, to find out! We caught up with the soft spoken actor for a quick chat about his role, working with co-star Amy Jackson and more!
What goes into your decision about what role you want to play?
It has to be something that challenges me as an actor. Something that would make me explore new avenues and get out of my comfort zone, you know and really think about what I need to do for the character and the role. That's what I look for.
What was is about the role in Ekk Deewana Tha that made you want to play this character?
It might not seem that complex but it was. There wasn't really any training required for it. It really was about being in touch with yourself and being in touch with your own past and your life experiences. It's about a middle class Maharastrian boy who wants to become a filmmaker. So he's out there and he's chasing his dream. He doesn't know anyone but he ends up finally making his first movie and it becomes a super hit. Through the way he falls in love and he's kind of balancing his love and work and he's struggling and yet he is okay. But the girl's family has issues, there are class issues and there are a lot of ups and downs. For him, his story is about how he chases his dream and how he wants this girl by his side and her to support everything he is doing. It's real you know what I mean? It's not make believe, it's real. It's not boy meets girl in the middle of New York City, drunk, they jump in a cab and then there is a song and they are lost and they don't know what to do and they are just laughing about it, which is also cute but this is… it's more real. It's true love.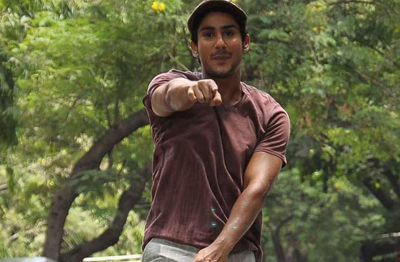 In terms of preparation we did do a lot of workshops with me and Amy. It's a musical so there's a lot of dancing required so there were lots of dance rehearsals. The most important thing that I tried to do was since it was an original and had been made earlier and there had been another actor who performed the exact same scenes, what I consciously tried to do was not ape him and put in my own two bits. Make him my own, you know. It's been absolutely amazing journey with everyone. I am so fortunate that I got to work with A R Rahman, Javed Akhtar and Gautham Menon.
The music is amazing… since it is being called a musical are the songs more entwined within the story even more so than what is usually seen in a Bollywood film?
Every song is not coming out of nowhere and we are wearing different colored ties and looking all cool and strange, wearing sunglasses etc you know (laughs). With this, every song unfolds with every twist in the story. It is beautifully put together with each scene and it's in the way the story unfolds with the songs. It's really beautiful. The songs and the music is absolutely breathtaking, truly. Some of them can make you cry and some of them can make you dance. It's amazing. So I am so happy that I am here with this project and I think we all worked to make something worthwhile. I hope, I hope.
Tell us about working with the director.
He firstly showed me the original, which I absolutely loved. One easy thing about making this film was we were doing a frame-to-frame copy. The only difference was the language, but it was a frame-to-frame translation and copy of the original. Like that it was easy, but in terms of taking it through with the character, what I loved was that he absolutely trusted me. He said, 'Look I see you doing this. You watch the film a couple of times and you to do workshops with Amy and work on dialogs.' I just believed in this story so much that I was like game on, game on!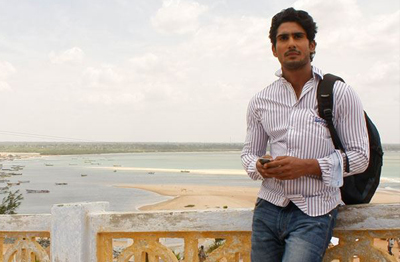 How was it working with Amy?
Absolutely wonderful. She's the best girl I know. She's such a sweet girl. I am soo shy and at first with strangers I don't open up easily but she's just broke the ice, which was amazing. She is lovely. I mean to have someone like that it just makes it easy for you to do what you are supposed to do on screen together and make the film. It was absolutely special to work with her like that. And now we are really, really close. It was really special to have someone like that to do the scenes with in the film.
Since your first appearance in Jaane Tu Ya Jaane Na until now how would you say your journey as an actor has been?
My journey's been…it's been slow; it's been steady yet short and pretty satisfying to be honest. I love what I do so. If in my best passion I am not appreciated a lot then it hurts me a lot. I mean anyone would be upset but I don't let it bring me down. I love my job and I am so passionate about it I want to keep doing what I do and see where it goes!