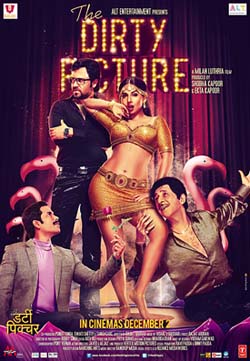 While the star of The Dirty Picture, Vidya Balan is busy collecting best actress awards the films producer Ekta Kapoor has her mind set elsewhere. It is reported that the Balaji producer has been busy planning legal action in relation to the copyright of the film after it was confirmed that the Kannada, Bengali and Tamil plan to remake the superhit: something which Ekta claims is illegal.
Commenting on the issue CEO of Balaji Motion Pictures Tanuj Garg told a leading newspaper that "Anybody trying to pass off their movie as a remake of The Dirty Picture is doing so unfairly and to derive monetary advantage by piggy-backing on a title that we own. Necessary legal action will be taken."
With news columns buzzing at the thought of remakes it has been confirmed that Rakhi Sawant will essay the Silk Smitha role in the Bengali remake which will be produced and directed by Tapas Pal and Shatabdi Roy. The Kannada version is believed to be titled Silk Sakkath Maga and the media have speculated that Veena Malik with take the lead role. Finally, it is believed that southern star Nikitha Thukral will be apprached for the Tamil remake.
Such news however has angered Ekta who has pointed out that the Balaji team have put a great deal of working into creating Vidya Balan's Silk and that legally all rights to The Dirty Picture remain with the production house. Apparently at this point in time no filmmaker has approached Balaji Motion Pictures to gain permission for remake rights.
"The film is very close to Ekta and she doesn't want anyone to distort it or tamper with the character of Silk," said a source, something which lead actress Vidya Balan had emphasized throughout promotions of the film.
It appears that Rakhi however is trying to play The Dirty Picture at its promotional games by keeping the media frenzy going with claims that Vidya's sex appeal in the film will be nothing compared to what she has to offer in the Bengali remake.
"Vidya has played a character representing the item girls and when an original item girl gets to play the role, it ought to look real and jaw dropping. I will definitely beat Vidya on this," Rakhi said.
It appears that after previous legal battles with the supposed brother of the late southern star Silk Smitha, The Dirty Picture is still struggling to keep its distance from the layers. Despite this the film continues to pick up awards and looks to continue to do so.