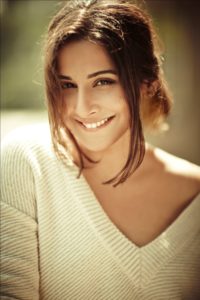 We earlier told you about a new film company Ellipsis Entertainment. Now the company has announced their first film! Ellipsis Entertainment and T-Series have inked their first deal together to produce a dra-medy, TUMHARI SULU. Vidya Balan will play the lead, Sulochana, fondly known as Sulu. In the story, Sulu lands herself an unexpected job of a beautiful, fun and feisty RJ who anchors a late-night show, known for its voyeuristic quality and semi-adult shenanigans.
Confirmed producer Bhushan Kumar, "Ellipsis is an avant-garde company with an eye for real, relatable and clutter-breaking content. We are pleased to collaoborate with today's creative and marketing mavericks on this very special film, which will also carry our stamp of unforgettable music."
Having brought director Ram Madhvani to the forefront with Neerja, the partners at Ellipsis are introducing the new-age ad film-maker, Suresh Triveni, who has a host of TVCs for top brands to his credit, including IPL's India-Pakistan Mauka Mauka spot, which became a runaway viral sensation.
Said joint producers Tanuj Garg, Atul Kasbekar and Shanti Sivaram Maini of Ellipsis, "In line with our vision of backing engaging and entertaining high-concept content, we are delighted to have found this gem of a script, which will make you cheer and laugh in plenty. The character of Sulu is fun, happy-go-lucky and grounded, everything that Vidya (Balan) is even in real life. Suresh Triveni is a debut talent to watch out for and we look forward to our association with T-Series, a market leader in the filmed entertainment space."
Director Suresh Triveni said, "Tumhari Sulu has been handcrafted for Vidya (Balan) and to have her as a lead in my first feature is an honour. I look forward to seeing the story come alive as I have lived with it for almost a year now. I am delighted to have found great producers, Ellipsis and T-Series, for this incredible journey." 
Talking about the role Vidya Balan, "Sulu is like that nimbu… you add nimbu for taste or then add it to balance taste; zesty & versatile! I think she'll unleash my naughty side."
TUMHARI SULU will be co-produced by Priya Gupta, Swati Iyer Chawla and Piya Sawhney. Going to the floor in April 2017, it will release towards the later part of 2017.