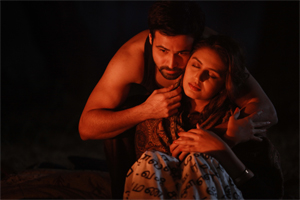 Emraan Hashmi's stature has certainly gone beyond his initial tag of being just a serial kisser. The actor, who has shown his acting and superstar chops in films like Shanghai and Jannat 2, is one of the most coveted talents in Bollywood now. However, when Emraan is in a film, kissing becomes an integral part of the script.
But for a change, the actor has let his co-star take charge. A source told us that in his latest film, Ek Thi Daayan, there is a scene where Huma Qureshi and Emraan are required to get intimate. Naturally, nothing could convey it better than a lip-to-lip kiss. So, the set was emptied out and only the bare minimum technicians stood back to capture the scene.
Surprisingly, the one who took charge was not Emraan, but his co-star Huma. She actually made him comfortable. Emraan sportingly said, "Yeah, we have a kiss, but I let Huma take over."
But there is a dampener: One hears that the kiss was to be part of the new promos, but the Central Board of Film Certification has raised objection. Wait and watch for what round two in this producer censor constant tug of war has to offer.