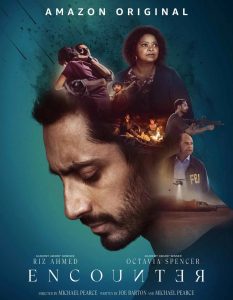 The new Amazon Studios film, Encounter, is a taut and thought-provoking drama, directed by Michael Pearce that stars Oscar-nominated actor Riz Ahmed. The movie also features young actors Lucian-River Chauhan and Aditya Geddada, as well as Octavia Spencer and Rory Cochrane in smaller, yet pivotal roles.
Encounter is a gripping story of decorated Marine Malik Kahn's mission to save Jay and Bobby's two young sons from a mysterious threat. On their perilous journey, … well, I don't want to spoil the film; the movie HAS to be experienced on screen!
Encounter combines elements of different genres, including a full-on science fiction take, a psychological thriller, and a moving family drama that is also full of action and scary mysteries. It is amazing how the director seamlessly brought all these different modes of filmmaking together to create a riveting, edge-of-your-seat-omg-what-happens-next-will-Malik-Jay-and-Bobby-be-ok, heart-pounding, compelling film-watching experience.
There are moments when you are so unsure of the full truth that you have no idea what will happen. But that is what makes Encounter so engaging, absorbing, mesmerizing, and more adjectives used to describe a movie that captures its audience so completely. Add in the incredible performances (more on that in a bit), and the film creates an incredibly rich story you HAVE to watch until the credits begin to roll, and even then, you don't want it to be over.
The cinematography of Benjamin Kracun is brilliant. The list of the camera's changing focus is way too long to go into detail, but the scenes of Malik and the boys in the desert and especially the ending shot were perfect for this film.
Kudos to the sound designer and sound department for their fantastic work. The lack of sounds at certain moments must be highlighted as a brilliant choice. There were moments of Malik hearing nothing but the rush of his breath, and you knew just by that and the look in his eyes, he was back in combat on one of his ten tours of duty. The sounds of the humming insects, plus as the end was closing in, the sounds of swarming invaders, added another layer to the entire eerie feeling of this film.
The background music has many vibes and genres, but it does not subtract from this journey; it enhances it. Musically, one of the stand-out moments is the ominous orchestral instrumentation by the composer Jed Kurzel that keeps building, leading toward perhaps the final showdown. It is as beautiful as it is disturbing.
There are very thought-provoking timely topics that are touched upon within the story, especially some military and police procedures… again, I don't want to reveal too much, but I will say it is another interesting expansion to the tale of Encounter.
With it being a film with so many facets, the pacing seems slow at points, but actually, it was a needed break. It is so full of drama and what the heck is going on that those scenes let your heart and stress level settle back down a bit.
Coming to the performances, every cast member plays their role terrifically. From Rory Cochrane's stoic FBI to the more fringe characters that are sprinkled throughout this world, they never step out of character, and so they never take you out of the story.
Octavia Spencer is fabulous. Though her role is a secondary character, it is essential, and she makes the most of every scene. Even when Spencer's Hattie Hayes is just giving a look, you know what the character is thinking and especially feeling. She does not have to say a word. But, when she does, it is full of emotion. I liked her so much in the film I wished there were more scenes with her.
Eight-year-old Aditya Geddada, in his debut film, is, to use a technical term, just WOW! So many times, such a young actor is given reaction expressions and told to play to the camera, but Aditya was purely Bobby. He totally steals his scenes, especially with his funny one-liners. The moments when he is angry or terrified are so real that I never felt like he was acting. I found out that some of his lines and scenes were improvised! Seriously, how can such a young actor be this good already? Let me say it again….just WOW!
As Jay, Lucian-River Chauhan is astonishing. Due to his ability to express a range of emotions and actions from anger to excitement, to doubt, and to portray a boy coming into his strength, the young actor entirely IS his character. In Encounter, you are not watching Chauhan play Jay, you are experiencing what Jay is going through on this journey. In many scenes, his eyes and body language convey everything. However, when he does speak, he has so much weight to his emotions. So many young actors do not get so inside a role that you genuinely believe he is the character he is playing. Few adult actors could match this moving performance. It is one of the finest performances by a young actor I have ever seen.
Riz Ahmed's portrayal as Mailk is absolutely brilliant, superb, outstanding, remarkable and every word of praise that you can think of for an actor's performance. In every moment, scene, and emotion, he inhabited Malik; he is not just this character on reel. I sat in awe of what his eyes said in many scenes, especially how he allowed us to experience his love for his boys, not just observe. The awe intensified when Malik, I mean Riz, spoke; it was so authentic – oh, the many emotions he made me feel. One of the best compliments I can give is that I felt this character so much that I wanted his story to be true (no spoilers). He showcased what a TRUE actor is. Bravo!
I admit I may have passed on watching this film if I had read the synopsis and saw the trailer, even with this cast. And I have to be honest, with all the gross bug scenes in the beginning, I was not too sure about this movie, but then as each minute passed, I could not stop watching and knew I must find out where the story goes and what the ending turns out to be. I am so thrilled I got to experience this incredible film. No matter what genre of film you like, this one is a movie I highly recommend.
Encounter is a genre-bending film, but it works on so many levels. If it had been just one genre, like just a sci-fi flick, I think it would have fallen flat; however, in all its forms, its gripping mercurial tale takes you on an incredible cinematic experience. By the end of the drama and the enigma of the engrossing story, plus the magnificent breath-taking performances by Riz Ahmed and the two boys, I was utterly blown away by Encounter. It is not to be missed.
Encounter is now playing in theaters and will begin streaming on Amazon Prime Video on December 10th.